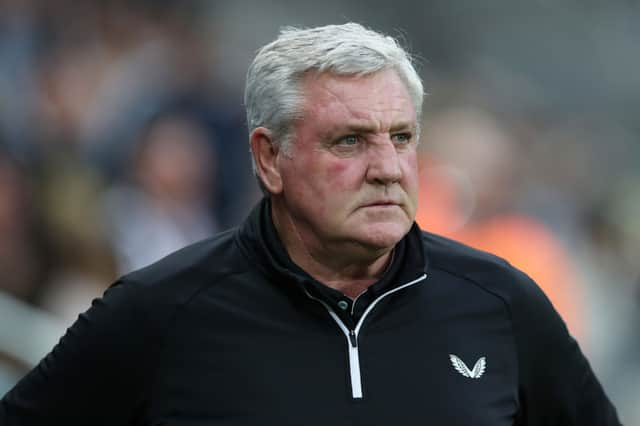 Assess Newcastle United's performance on the night...
"We played very well on the night, I have to say.
"I can't really remember my goalkeeper having to make a save. We've created some great chances and we didn't take them.
"Unfortunately for us, it proved costly but I couldn't fault the way we played. There were a lot of very good performances out there."
Impressed with fringe players?
"I was very, very pleased with the way we played, to keep a clean sheet, which we've spoken about over the last week or so.
"There was a lot of positives, a lot individual players who played very, very well and have done themselves no harm at all in trying to get into the team at the weekend."
How disappointing is it to be out of the cup?
"I've said since I walked through the door that I know how important it is and it's an opportunity.
"I've said many times it's going to be difficult for us to win the Premier League but a cup competition as a Premier League team - there are already two out, so a Premier League team can have a chance of a cup run.
"We got to the quarter-finals last year and the year before, so I'm disappointed we haven't gone through."
Pleased with the improved performance of Jeff Hendrick?
I thought it would have been nice for Jeff to have rounded off the performance with a goal.
His performance was arguably the best he has performed for us - I thought he was excellent today. Against his former club it would have been nice for him to get on the scoresheet. I was impressed with him.
Were Allan Saint-Maximin, Miguel Almiron and Joe Willock brought on to take penalties?
"I didn't think about that at all when I brought them on. I brought them on to win the match, not for penalties.
"I have to say, Allan and Miggy stuck them both away yesterday (on Tuesday) when we practised them. They smashed them into the top corner.
"They couldn't execute it but how different it is from a training ground to a real atmosphere our wonderful supporters made it tonight.
"A big well done to them. To have the crowd we've got is something else."
How do you keep spirits up ahead of the weekend (v Southampton)?
"Well, I think we haven't done a lot wrong, even though we haven't won.
"We went out the cup, but we didn't lose here tonight. There are positives. I enjoyed watching us play, we were a threat all night and played some good stuff at times.
"We didn't get the rub of the green at times. We just have to keep believing we will turn things around."