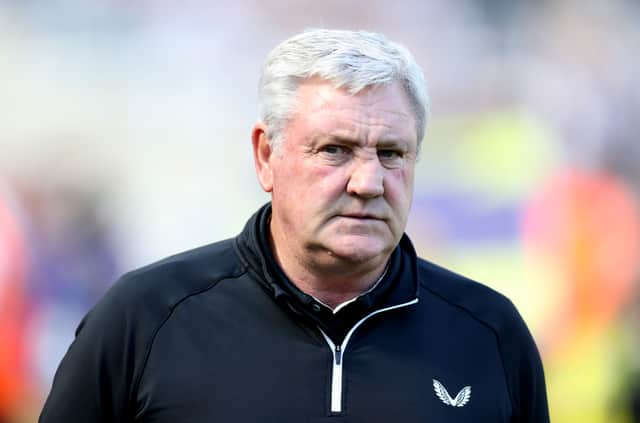 Newcastle United head coach Steve Bruce cut an angry and offended figure as the line of press questioning touched on his preparation, or lack of, for the weekend loss at Manchester United.
And while defeat at Old Trafford was to be expected - his fiery responses to reporters in the post-match presser were not.Here's a look over the questions which touched a nerve with Bruce, one of which came via Miles Starforth, of NewcastleWorld's sister title the Shields Gazette.
Q via Chris Waugh, The Athletic: Four goals conceded and that's 12 in four games. I mean, how alarming is the defensive performance at the moment?
SB: "Well there was many positives to take out of the performance, Chris. But you're right, unfortunately defensively we're not doing enough. It's a shame because unfortunately up until half time I can't remember the goalkeeper making a save. And we get punished, a little deflection and the goalkeeper spills it and Ronaldo has got a tap in, which is cruel on us.We will look at it. And you are right. We have to look at it.For all of our good work in the game we are conceding, which has proven critical to us."
Q via Miles Starforth, Shields Gazette: There were more chants, late in the game, against you. What do you make of them, what is your reaction?
SB: "Look Miles, what can I say to that? What do you want me to say? What do you want me to say - I'm delighted about it? I can't comment on that. I'm sorry."
Q via Lee Ryder, Newcastle Chronicle: We're getting overwhelming requests from fans asking about the build up and preparation for this game...SB (interjects): "Oh, wow. Go on..." Ryder continues: ...And whether you took a holiday in the build up to the game? That's just what the fans are asking.
SB: "Do I really have to answer that to you, Lee? That's what the fans are asking are they? We trained all week, we were in every day. Our preparation was meticulous, let me tell you. What was I supposed to do? We had six of them (players on international duty) away. Our preparation was fine, absolutely fine. We were in all week. You could see the signs of the plan we tried to work to. To answer questions like that is typical of the type of question I get from you and your newspaper if I'm being brutally honest. That's why they (fans) are the way they are [gestures over his shoulder] - the way you are, your negativity, and your newspaper."