Ryan Fraser joined Newcastle United's injury list after limping out of the 1-0 victory versus Wolves.
The 28-year-old pulled up within the opening quarter of an hour and was replaced by Miguel Almiron.
Eddie Howe will hope Fraser's injury isn't too serious with the Magpies head coach already without Joe Willock, Kieran Trippier and Callum Wilson.
Here's a look at United's latest injury list - and each player's potential return date:
Ryan Fraser
The Scotland international was forced off after 13 minutes against Wolverhampton Wanderers with a hamstring injury.
"I'm not sure how serious it is," Howe said after the game.
"He'll be a worry obviously for next week but with the form he's been in, and his contribution, we certainly hope it's a quick return for him."
With Howe revealing the winger is a "worry" for next week, he might not return until the Crystal Palace game on Wednesday, April 20.
It all depends on the severity of the hamstring injury as they can vary.
Joe Willock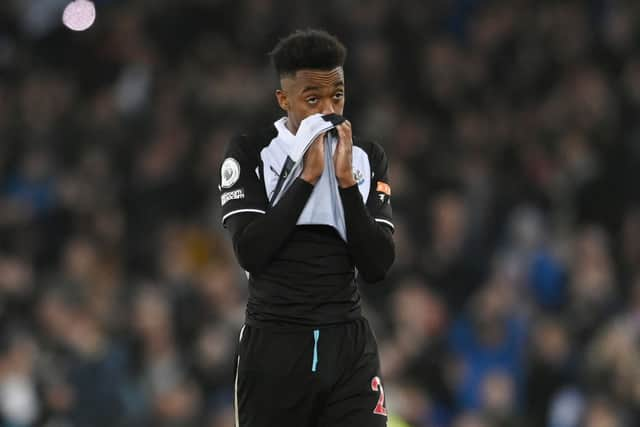 Willock has been nursing a knee issue and missed United's 1-0 win over Wolves on Friday.
Howe revealed the former Arsenal midfielder has been given an injection to help deal with the pain.
"He's gone away to have an injection in his knee," Howe said. "We hope that will fix the problem for him.
"We don't think he'll be out long term, we don't think it'll be long before he's back in contention to play but until he's back, you can never say never.
"We hope that's fixed the pain he's had."
Depending on how Willock responds to the injection next week, it could be that he comes back into contention against Leicester City.
Kieran Trippier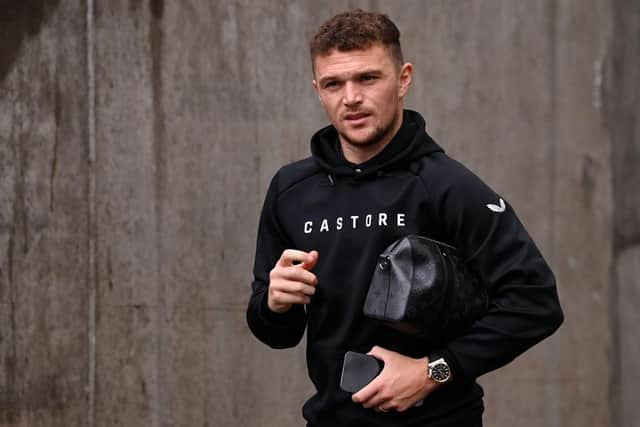 Trippier has been out since February after fracturing the fifth metatarsal in his left foot during the 1-0 over Aston Villa.
Speaking after last weekend's loss at Tottenham, Howe said: "His injury is healing, it's not totally healed.
"We will be able to start pushing him, maybe not as quickly as we initially wanted to, but I still think he'll come back this season.
"Again, there's no definitive date on that but he's making good progress."
While Trippier might have suffered a minor setback, there is hope he will return before the end of April, potentially Norwich away on April 23 or Liverpool the week later.
Callum Wilson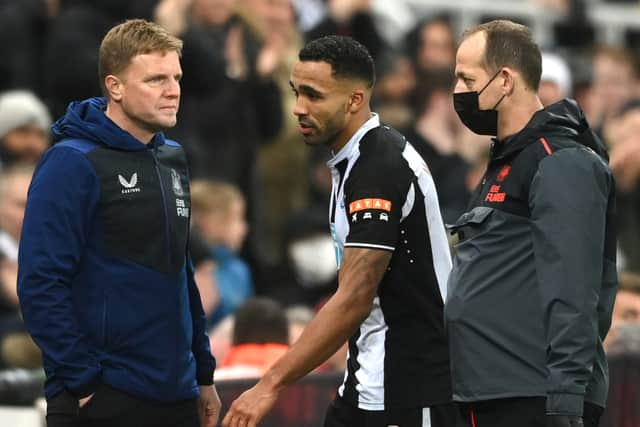 Wilson has been sidelined since injuring his calf in the 1-1 draw with Manchester United on December 27.
Speaking on the BBC's Footballer's Football Podcast, Wilson maintains the desire to return before the end of April.
He said: "I'm still on track, it's just moving slower than I'd like. Obviously, there is a rush but I'm also not going to rush the process.
"I've got to trust the process, not rush it. When my body is ready to return it will do.
"Whether that's three or four weeks or five to six weeks or less than that, I don't know to be honest.
"It was obviously a significant injury and it's taken its time. I'll be back soon I think.
"I'm aiming... I can't say too much... but I'm aiming for a return this month I think, albeit towards the end of the month. That's got to be the plan really."
Based on the 30-year-old's words only, Wilson is hopeful of returning for the home fixture against Liverpool on April 30.