The 44-year-old succeeded Bruce in November after a change of ownership saw the newly-appointed West Brom manager dismissed following a winless start to the season.
Howe won just one of his opening nine games, however back-to-back victories against Leeds United and Everton has pulled the Magpies out of the relegation zone.
And one player who has been key to United's upturn in form - where they are four matches unbeaten - is Scotland international Fraser.
Prior to Howe's arrival, Fraser struggled during his first 12 months on Tyneside as he lacked any kind of fitness, form and consistency.
He became a shadow figure under Bruce, though his reunion with Howe has sparked his Newcastle career back into life.
Tuesday night's 3-1 win over Everton saw Fraser grab his first Premier League goal for Newcastle and win the free-kick that Kieran Trippier expertly dispatched.
Fraser was asked what he put his improved performances down to, and the 27-year-old couldn't resist a small swipe at Bruce.
'I need to be careful what I say'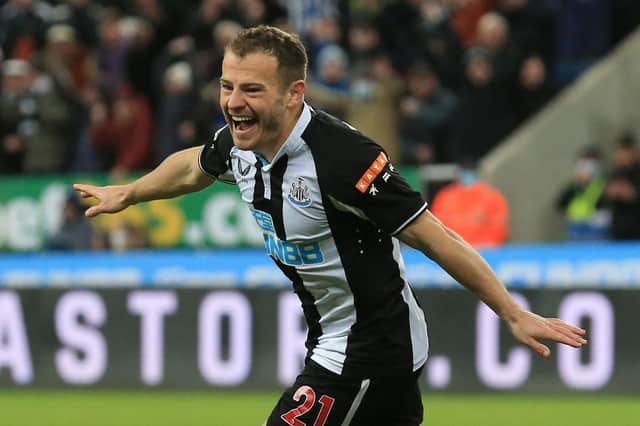 "(I need to) be careful what I say here! Fraser laughed.
"Since the gaffer's come in, he's been working one-to-one with me and the whole team is playing better football.
"I don't want to say anything negative about before. I've got myself to blame as well, I wasn't good enough. I suppose this suits me a little bit better.
"He (Eddie Howe) said to me the other day 'don't think about goals. First and foremost, run for the team, give performances I should be giving every week and the goals will come'.
"And the goal came, so I suppose he knows what he's saying!
"Even going out to Saudi Arabia for team bonding. Small things like that, he thinks about everything the gaffer.
"Personal stuff that players maybe didn't know, you respect more about them and it means you go out and fight for each other.
"We're bringing all that together now, that's four unbeaten. Eight points in four games is huge."
'No rest for him makes no rest for us'
Speaking to NUFCTV after the win over Everton, Fraser added: "It'd be easy to give us a day off tomorrow (Wednesday) but we're in and we'll recover.
"It won't just be recovery, there will be analysts who he'll probably have in at the training ground tonight. The gaffer, he won't go home!
"We'll review everything about this game and everything on Villa.
"No rest for him makes no rest for us."