Newcastle United have partnered up with Saudi Arabia's national carrier SAUDIA ahead of next month's mid-season trip to Riyadh. As part of the week-long training camp, the Magpies take on Saudi Pro League champions Al-Hilal on December 8.
Eddie Howe, his staff and players, excluding those involved in the Qatar World Cup, will fly to the Middle East on a SAUDIA chartered flight after the national Saudi firm was confirmed as the club's Official Tour Airline Partner.
SAUDIA, whose slogan is 'Saudi Business Links - Your Gateway to Arabia', was the heroes sponsor for Saturday's 1-0 victory over Chelsea at St James' Park - and the relationship will continue for the trip to Riyadh.
"Whilst Newcastle United is on an exciting and ambitious journey to grow our global reach and fanbase, we are also very focussed on growing our fan base and following in Saudi Arabia and the rest of the Middle East," said the club's Chief Commercial Officer Peter Silverstone.
"Our ambition is to become the most supported English Premier League football team in Saudi Arabia; a country whose population includes a large, young, passionate and highly engaged football community.
"We are delighted to partner with SAUDIA as our official tour airline partner, and we look forward to working with them during our trip to Riyadh and for the remainder of the 2022/23 English Premier League Season."
What was missing?
The photo attached to the press release showed Silverstone and CEO Darren Eales holding Newcastle's home shirt lettered 'SAUDIA 22-23', while the two representatives from SAUDIA held up United's green and white top.
Indeed, eagle-eyed supporters quickly noticed that Newcastle's main shirt sponsor Fun 88 was not on display. The Magpies' sponsorship deal with the betting company comes to an end in the summer, and fans are already speculating who will take their place.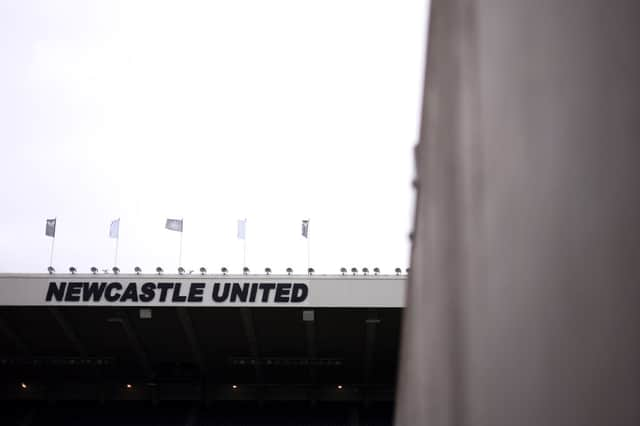 As far as SAUDI goes however, it is understood the absence of Fun 88's logo is due to gambling advertising laws in Saudi Arabia. There are no state-licensed casinos, bookmakers or poker rooms in the Saudi Kingdom, with all forms of gambling illegal.
The partnership between SAUDIA and Newcastle will have no doubt been big news across the country. Interest continues to grow with the Magpies 80 per-cent owned by the Public Investment Fund.
Khaled Tash, SAUDIA Group Chief Marketing Officer, added: "We are committed to bringing the world to Saudi Arabia, and this includes partnering with global sporting giants to further evolve our landscape.
"We hope to form a cultural bridge between Saudi Arabia and the world as we believe our culture has the potential to transcend borders, whereby we inspire and connect with guests from around the world in new and meaningful ways."