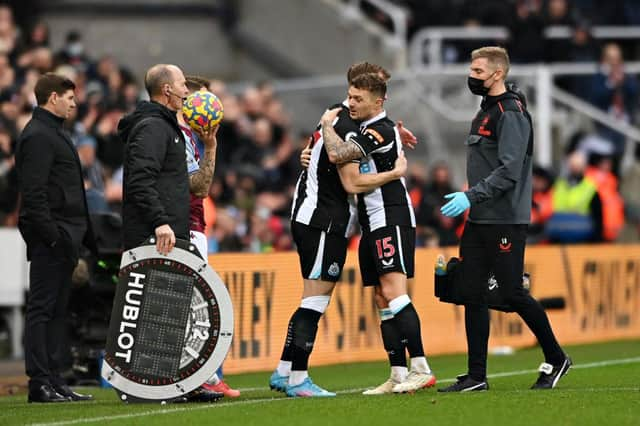 The Newcastle United games Kieran Trippier is likely to miss following major injury blow
Newcastle United could be without Kieran Trippier for up to six weeks after fracturing a bone in his left foot.
The England right-back picked up the injury in the Magpies' 1-0 win over Aston Villa on Sunday, where Trippier scored the winner via his 35th-minute free-kick.
He was forced to withdraw in the early stages of the second-half before swiftly undergoing an x-ray at the Royal Victoria Infirmary hospital.
And the results on Monday morning confirmed Trippier had fractured his fifth metatarsal in his left foot.
A club statement read: "Newcastle United defender Kieran Trippier is set to be sidelined for the club's upcoming fixtures after fracturing a bone in his foot during Sunday's 1-0 victory over Aston Villa.
"The 31-year-old scored the game's only goal at St. James' Park to help the Magpies to a third successive Premier League win, but had to be substituted early in the second half after sustaining a foot injury.
"Trippier underwent an X-ray immediately after the game and scans have shown a fracture to the fifth metatarsal bone in his left foot.
"Everyone at the club wishes Kieran a speedy recovery."
Although there is no timeframe over Trippier's absence, there are fears the 31-year-old could miss the next six weeks of fixtures.
Here's a look at the matches Trippier could miss as United push to seal Premier League safety: