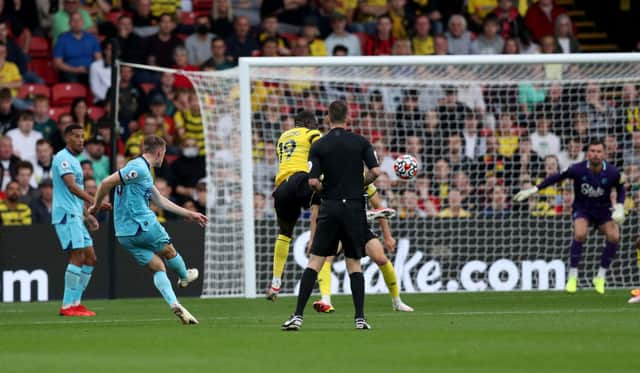 Roll the clock back to August and Sean Longstaff's time at Newcastle United looked to be over.
No new contract, his current one coming to an end in less than 12 months, the exit door appearing ajar with Rafa Benitez and Everton keeping tabs.
But, now, seven games into the 2021/22 campaign and despite the Magpies not having a win on the board, Longstaff looks a whole lot more comfortable.
Tentative talks around a new deal are understood to have started, something player and his representatives have wanted for years, and a run in the team, injury-free, has seen Longstaff thrive in a midfield two or a three.
Such is his versatility, he's looked United's best option both as a midfield pivot and playing in a more advanced No.10, or progressive No.8, type role.
His re-emergence was capped on Saturday when 25 yards out, something he's threatened to do for weeks, Longstaff let rip and saw his swirling effort bend through the grasp of Ben Foster and into the back of the net. It was nothing short of deserved.
And his performances, which have shown flashes of the confidence and swagger of his breakthrough first few months, have not gone unnoticed by head coach Steve Bruce, with the 'scapegoating' of Longstaff after Sheffield United last season seeming like nothing but a distant nightmare.
"He has played very, very well, I have to say. And long may it continue," said Bruce.
"I am really pleased with Sean at the moment, he has been playing exceptionally well. I am delighted."
Bruce believes United have played well enough this season to have easily increased their tally of three points from six.
That kind of form, if continued for any length of time, will see them relegated from the Premier League.
So what's missing for United? Are they suffering from a mental block when trying to see a game out - are they in the midst of a crisis of confidence?
"I hope not," said Bruce when asked about that particular subject.
"There is a frustration among the dressing room because we know.
"We are creating chances. We know we are a threat. We have got to be a bit more clinical, but we have done enough to win three games."