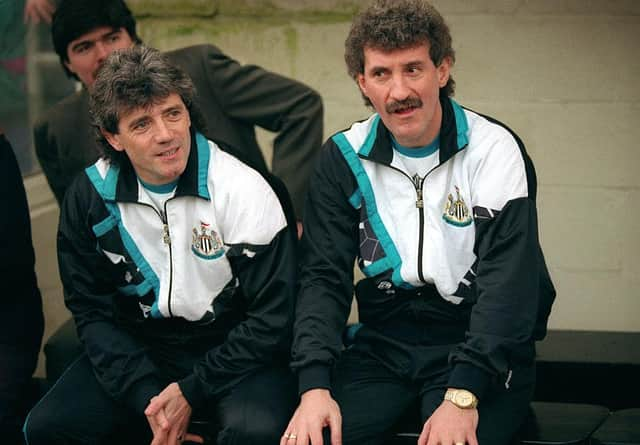 Newcastle United manager Kevin Keegan and assistant Terry McDermott in the dugout on February 8, 1992.
For a century, the Magpies had only ever competed in the top two levels of English football - but now, with 16 games of the 1991/92 season remaining, they were faced with the very real prospect of plummeting to a new low.
Ossie Ardilies had experienced the highs of winning a World Cup, the UEFA Cup and FA Cup during his playing career - but he was now in charge of a Newcastle squad that was heading towards new depths.
Hope, sometimes misguided, was in short supply, but there was still pride in seeing a number of promising young Geordies playing for the shirt and displaying a brand of football their manager had showcased during his time with the likes of Spurs and Argentina just a decade earlier.
Sadly, pride and pretty football did not equal points in the cynical world of Division Two.
"I felt sorry for Ossie and I think most of the players would say the same way because he played a very special way ," former Magpies midfielder Liam O'Brien told Newcastle World.
"We were good going forward, but we couldn't do the other side of the game, we didn't do the defensive side of the game very well.
"He didn't get the financial backing, so he brought a lot of the young lads through and they went on to be great players.
"But our position in the league didn't help anything and that included the way things were run at the club."
Off the pitch, things weren't much better.
Put simply, the club was a mess with the ill-effects of recent boardroom wrangling were still being felt, St James Park in a state of decay and training facilities in Benwell were not worthy of the name.
"I'd lost patience with Ossie after the Oxford game," explained lifelong Magpies supporter and comedian, Gavin Webster.
"Anything would have been better than where we were at as a club at that point.
"We needed some star quality, the chairman wanted to be bold and he wanted to make a statement."
Call it foolish, call it inspired, whatever you call it, the decision to appoint a novice manager - albeit one with a strong connection with the club - seemed a risk.
But it was a risk worth taking and when Kevin Keegan nervously made his way into a press conference to announce his appointment, he brought with him the unwavering belief that something special was coming, despite the club's predicament.
United legend David Kelly admitted the switch in the dugout had left him with contrasting emotions.
He told Newcastle World: "It was surreal from my point of view because Ossie had signed me and there had been talk that he was going to bring in three or four players and have a go.
"That became apparent that wouldn't happen and I thought, as a new player, the lads were great but the morale was very low.
"It was clear it would be a struggle and then all of a sudden there was talk Sir John Hall would be investing and as a player, you half dismiss it as a pipe dream.
"What Kevin did very quickly, was galvanised the city and the club because there were promises from Sir John and, as an icon, everybody believed Kevin and what was being said."
Chris Waddle, Kevin Keegan and Terry McDermott salute the Newcastle fans.
Gavin Haigh - a match-going supporter since 1976 - recalled being taken back to the emotions that followed Keegan's first arrival on Tyneside.
"When the announcement was made, it was like being back in 1982 all over again," he explained.
"The club was destitute really, it was depressing and it felt devoid of any hope or ambition - but then suddenly out of nowhere, Kevin arrived and it just seemed to click.
"I always say he was like the Pied Piper and Newcastle fans will follow him because he gave us all that belief something good would be coming our way."
A crowd of 15,663 had watched the Magpies throw away a three-goal lead in a 4-3 defeat against Charlton Athletic in their final home league game before Keegan's arrival.
A surge of enthusiasm reignited the belief that better times were ahead, despite the obvious chaos the club found itself in.
The gates were closed with over 29,000 crammed inside St James Park to witness the return of a man that had forged bonds with the Tyneside public by bringing down the curtain on a glittering career wearing the black and white of their beloved club.
"I always felt a connection with Kevin because my first ever game was his testimonial," explained supporter Bobby Kelters, who held a season ticket in the East Stand 'benches' that day.
"There was an affinity with him and when he came back to manage us, everyone, my Dad, friends at school, we were all buzzing.
"It's strange because you think now, if the club appointed a manager without experience, you'd be asking questions.
"But we just all went along with it because we needed something to cling to and Kevin gave us that because of what he had done for us as a player."
The excitement had found its way to the players that would walk out in black and white as Keegan made his managerial debut against Bristol City.
"There was a great buzz amongst the players in the lead up to the game," explained O'Brien.
"We heard it would be a good crowd, but couldn't believe it would be a full house.
"It gave us even more inspiration and to walk out the tunnel, seeing a full house was fantastic and we could feel just how much they wanted us to do well."
A tight and nervy opening 45 minutes offered little to suggest anything had changed against a dogged City side, despite the presence of Keegan and fellow Magpies legend Terry McDermott on the touchline.
Newcastle United manager Kevin Keegan and assistant Terry McDermott in the dugout on February 8, 1992.
But that all changed during a blistering eight-minute spell at the start of the second-half as Keegan's Newcastle burst into life.
Attacking the Gallowgate End where their manager memorably scored his first Magpies goal against Queens Park Rangers a decade earlier, United took the lead on 53 minutes when Kelly headed home from close-range after Steve Watson had hooked a cross into the six-yard box.
St James Park erupted with a mixture of elation and relief.
Kelly said: "It had been difficult to play at St James, but only because of the results, but a cloud had been lifted and the sun was starting to shine.
"Bristol City were a good side, they were a decent team, and although we had good players, we hadn't had the results.
"I felt relief when we scored and the crowd were incredible because it just erupted, it was like the roof came off.
"It was a party atmosphere after, it felt like feeling p*****d but not even having a drink."
"We were in the Gallowgate corner and when the first goal went in, it was bedlam," said Marc Corby, who now runs the NUFC 1980-1994 Videos Twitter account.
"It was utter joy, we hadn't celebrated that way since the promotion push a few years earlier.
"We had bought into it because the previous five or six home games were just boring.
"It felt like a turning point and we had bought into what Kevin and Terry McDermott were already doing.
"It felt like being part of something."
The lead was doubled two minutes later when Liam O'Brien slid a loose ball home after Gavin Peacock had narrowly missed out on a knockdown from a free-kick.
The goalscorer said: "I was just trying to read the ricochet and got in the right place to flick it into the net.
"But we were still at the bottom of the league, we knew we had been conceding so we just remained calm because we knew how things had happened in other games.
"We didn't want to get carried away because we knew we had thrown leads away during the season and that was why we were where we were in the league."
If the players were calm, their new management team were quite the opposite.
The mind's eye can often play tricks on the memory - but a look back at footage of the game confirms the abiding memory of Keegan leading the celebrations from the bench, with McDermott mirroring his every movement a split-second behind.
In-sync, just as they were during their playing days with Liverpool, Newcastle and England.
"I can't remember anything of the first-half," said Kelters.
"There was a feeling this wasn't going to be alright now, but then the first goal went in and I remember looking at the bench and seeing Keegan and Terry Mac celebrating.
"They had bought into it already, we all had, then you felt it would be alright."
They would be celebrating once again as the hour-mark passed when Peacock's intelligent hold-up play allow Kelly to fire home his second goal of a remarkable day.
'Limbs' would be the modern parlance to describe the scene around St James Park, but back then, it was just as case of lads and lasses 'gannin' a bit radge'.
Webster distinctly remembers a key moment in the closing stages that showed a new "swagger" about a side that was still very much in trouble.
"The crowd were obviously right into it and Alan Nielson started messing about on the ball, a bit like Kenny Wharton had done when he sat on the ball against Luton in the 80s.
"Kevin Scott told him to stop but is showed there was a swagger about the side.
"Keegan and Terry McDermott had gone mental when we scored and it just felt like hope was back."
Kelly believes the dressing down given to youngster Nielson showed how much the more experienced players were focused on the job.
He said: "Scotty would have done that was because he just wanted clean sheets - but the swagger came from Kevin but it wouldn't have gone down well with Kevin.
"It showed the players cared, we were there to mess around, we were there to win and that was our jobs."
"It was a relief because you'd been brought up on Kevin Keegan being the messiah and you wanted him to do well," said Corby.
"It was a case of, yes he can turn this around, he can do this and you just wanted to see every minute of what was happening."
Kelly would score again as Newcastle threatened to derail Blackburn Rovers march towards the newly-formed Premier League just a week later.
But a Magpies nemesis came back to haunt them as a David Speedie hat-trick gave their hosts all three points and injected a large dose of reality into what felt like a dream week.
Newcastle would stay up after a dramatic final week of the season where Kelly scored an iconic winner to see off former club Portsmouth in the penultimate fixture of the campaign.
Given results elsewhere, a final day win at Leicester City was not needed, but the Magpies had confirmed their second tier status for another season.
Kelly reflected: "I remember the manager saying this was what the club was about and he wasn't just talking about winning, or the staff and the supporters celebrating in the way they did.
"He meant the whole package of being at a club like Newcastle, to entertain, to have that connection with the city and that was why he was such a great fit.
"It was a masterstroke by Sir John, even though Kevin couldn't coach, he was all about the well-being of his team.
"He cared, he wanted his side to be the best football team they could be and he wanted us to be the best we could be for the city as a whole."
Kevin Keegan's Newcastle United rollercoaster had begun - and there would be more ups than downs before the thrilling ride came to an end just under five years later.
Newcastle United manager Kevin Keegan holds the League Division One trophy after the League Division One match against Leicester City at St James' Park on May 9, 1993 in Newcastle, England,( Back row left to right) Paul Bracewell, Terry McDermott (Assistant manager) Mark Robinson, Barry Venison (obscured) Brian Kilcline, Tommy Wright, Kevin Sheedy, Derek Fazackerley (coach) Derek Wright (physio) and Scott Sellars, (front row left to right) John Beresford, Lee Clark, David Kelly, Steve Howey (partially obscured) KK, Liam O' Brien, Gavin Peacock, Robert Lee, Andy Cole and Kevin Scott.