It had taken Anthony Gordon less than 24 hours to witness the passion and generosity of Newcastle United supporters.
Having travelled up from Merseyside to complete his £45million transfer from Everton, Gordon paid a visit to Metrocentre in Gateshead for a Saturday shopping trip.
Whilst picking some new clothes, and a fresh pair of trainers, the 21-year-old also took time to have photographs with fans.
But when it was time to go back to his Quayside hotel, Gordon struggled to get a taxi after his phone battery. That is when one Geordie stepped in to offer the Liverpudlian a lift.
Gordon, speaking United's matchday programme, explained: "I went there to do a bit of shopping and everyone was coming up to me asking for pictures. They were all very polite, which, as a footballer, is so nice.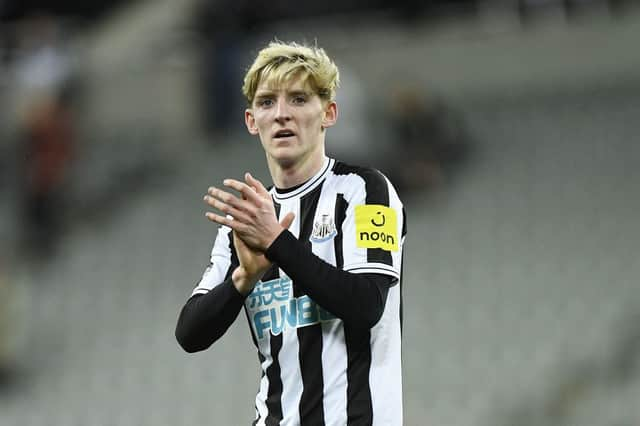 "I was then outside waiting for a taxi back to the hotel but my phone had died. A fan approached me and congratulated me on joining Newcastle and after a bit of talking, she offered me and my girlfriend to hop in the back of her car. I was a bit unsure at first but then I agreed.
"The family took me and my girlfriend back [to the hotel], telling me how much they love the club, and it was a good sign of how pleasant they are. I've only been hearing good things about Newcastle. It made me feel more at ease.
"I've been in Liverpool my whole life and never really been to Newcastle within the city. Me and my girlfriend weren't sure what to expect at first so when we arrived and got to meet the people, it took those nerves away."
The generous Geordie in question was the mother of young Magpies fan Lewis Duffy. She arrived to pick Lewis up from work, so imagine his shock when he saw Gordon in the backseat of the car.
Lewis told BBC Newcastle: "I finished work at 7pm and I got a call saying 'Anthony Gordon is in our car' - I didn't really believe it at first!
"When I was still at work, my Mam and Dad went up to Anthony Gordon, said hello and welcomed him to Newcastle. He asked my Mam and Dad how to get a taxi. My Mam being my Mam, she speaks to anybody, offered him a lift, and he accepted.
"I got to the car about 7:10pm and I see two people in the back of the car. I got in and Anthony Gordon was sitting there. Absolutely unbelievable."