A lack of gametime at the Emirates has led many to believe the Scotland international's time is up in London. The latest blow to his Gunners' career came at the weekend when usual central defender Jakub Kiwior was given the nod to play in Tierney's position, with usual full-back Oleksandr Zinchenko ruled out of the Nottingham Forest clash.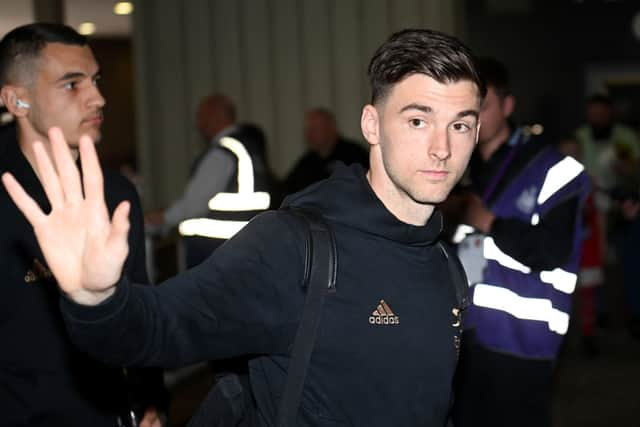 Tierney is believed to be valued in the region of £30million by Arsenal, who will take their place in the draw for the Champions League group stages alongside the Magpies come August.
And while Tierney could stay put, he is understood to be wanted by Manchester City, as well as Newcastle.
The full-back started his career north of the border with Celtic, another side likely to be in the Champions League groups, and still holds a special place in supporters' hearts at Parkhead.
A Hoops club legend, Kris Commons, has been having his say on the player's future - and he believes the recent move by Mikel Arteta to pick a fringe man in Kiwior ahead of Tierney looks like being the final straw for him in North London.
Commons told the Daily Mail: "From Tierney's point of view, when there's an injury crisis and other guys are getting a game ahead of you in your own position, that's when you know your time is up.
"His face obviously just doesn't fit any more. I think that's probably the last straw for him at Arsenal and it wouldn't surprise me at all to see him move on in the summer. He's too good to sit twiddling his thumbs on Arsenal's bench. If his face doesn't fit and Arteta doesn't fancy him, then there will be plenty of suitors elsewhere.
"Clubs will be lining up for Tierney's signature in the summer - and it seems like Newcastle United are the early frontrunners to get him. I've seen a lot of stories doing the rounds over the past week about how Eddie Howe wants to make Tierney Newcastle's first choice left-back next season."
Commons thinks Newcastle would be perfect for Tierney for a whole number of reasons, but curing his homesickness could be a big factor.
He continued: "I think it's a move which would make a lot of sense and tick a lot of boxes for both the club and the player himself. From Newcastle's point of view, they would be getting one of the best left-backs in Europe, a born winner, and a guy who could be a mainstay in the team for the next 10 years.
"Tierney ticks both those boxes quite emphatically - and, crucially, I also think the move would suit him on a personal level. Sometimes in the past, players would turn their nose up at the idea of leaving London and moving to Newcastle. It wasn't viewed as an attractive proposition on and off the pitch.
"But it's different for Tierney. We know he has suffered from homesickness in the past. It's something he has spoken openly about. By moving from London to Newcastle, he would be far closer to his family. His family would only be two or three hours up the road in Glasgow.
"He would also be moving to one of the richest and most ambitious clubs in Europe, where he knows he would play week in, week out. Manchester City have even been mentioned as a possible destination, but I think a move to Newcastle and a chance to join Howe's Toon Army revolution as a key player is more attractive.
"What's clear is that Tierney's time at Arsenal is nearing an end. He still has three years to run on his contract, so Arsenal will certainly still get good money for him. But when he does move on to pastures new, it'll be more their loss than Tierney's."