The takeover? New beginnings turn stale
Gone is the talk of 'parking tanks on the lawn' and 'dark forces' sparking a fight from the owner.
Instead, the whole takeover feels in a state of suspension, probably somewhere out in space.
As a Newcastle fan it is hard not to get the feeling that this deal is as far away as it has ever been - but is it?
Well, both legal challenges - the arbitration and the Competition Appeal Tribunal case - remain live, so nothing is dead in the water, however both find themselves shrouded in uncertainty.
The CAT case has a jurisdiction hearing on September 29 to decide whether the it can be heard in courts, or, as the Premier League argue, it should be held in a private arbitration, as per the top flight rules.
If the PL win, it would be bad for the deal but even if the club, through St James Holdings Limited, win, they can appeal. And we're told any appeal could take up to 12 months to be heard.
With the arbitration, there is no set date with July's hearing put back to 'early 2022', much to the frustration of all involved - bar potentially the PL.
So, that leaves everyone continuing to believe in unicorns. This is a joke, of course, but at times it has felt that much of a tantalising fantasy. The dream is not a reality, and may never be, so for now the status quo remains.
But the uncertainty and promises of a better future has caused division, anger, frustration and ultimately negativity, despite positive beginnings.
Deal dies and back to Mike Ashley? This is something few want or desire. And many have found it tough to reconcile.
The 'not knowing' is the biggest issue here - be that for players, the head coach, owner, staff or fans.
This state of stasis benefits absolutely no one.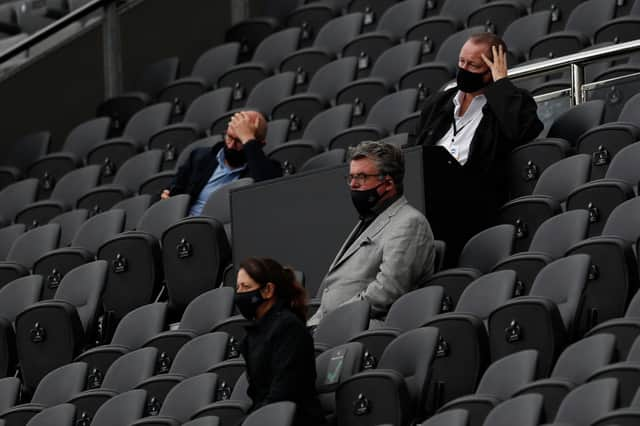 Mike Ashley - captain of the rudderless ship
Nearly a decade and a half after the Sports Direct tycoon bought the Magpies outright, they are no further forward. What a waste.
While other Premier League clubs have accelerated away from United in a period of now stagnated, unprecedented top flight growth, the Magpies are still stuck in the noughties in terms of commercial revenues and a whole host of other financial metrics.
This, on the whole, is down to Ashley and the way he runs the club.
His approach has not divided Newcastle, it has united it in disbelief and discontent.
The thing is, he can change all of that. It is within his power to loosen the purse strings, allow the club to use an overdraft or lend against future earnings. However, he's not someone who does 'debt', see the repaying of the stadium extension mortgage in full on arrival - cash still owed interest-free to the owner to this day.
Some leniency was shown re the Joe Willock deal, reported to be worth around £25million to Arsenal, but if that comes at the cost of strengthening in other areas, the question about whether it was worth it, or justifiable, will remain.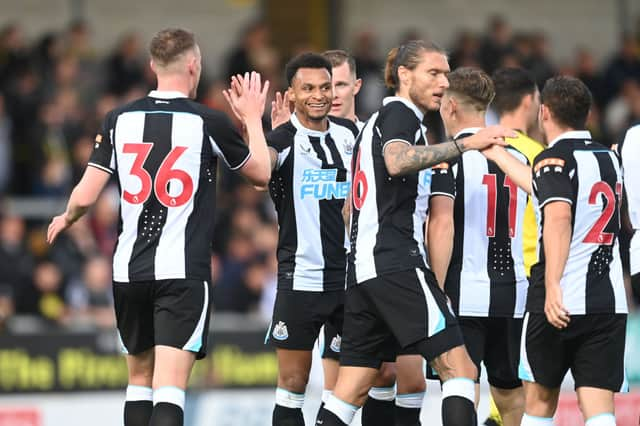 Players - quality or confidence vacuum?
It is a question asked by many fans - do NUFC really have enough quality?
Some would argue with the likes of Callum Wilson, Allan Saint-Maximin and others that United do, in fact, have enough to improve on their now regular relegation flirtations.
Others would argue that, scratch the surface, and depth is not something United possess.
The Thing is, this can be fixed quite easily by adding some transfer market quality - but Ashley is an owner forever reluctant to become a benefactor.
Margins, in his eyes, must be stuck to - and often the victim of that approach is Newcastle themselves.
Management - the man few wanted
Steve Bruce was not anyone's choice to replace Rafa Benitez in 2019, nor was he Ashley, Barnes and Charnley's, if the rumours are to be believed.
In many ways that meant Bruce started his tenure already in deficit, with regards what had gone before.
Circumstance now means he is probably even further in the minus in fans' eyes, despite two risky, mostly limping, laboured lower mid-table finishes.
The takeover hasn't helped the mood, nor has the distance between fans and club. Social media has whipped many into a frenzy and the lack of connection between head coach and the community is something only recently addressed, with Bruce attending the NUFC fans foodbank stall pre-season.
Bruce also promised to help the cause throughout the season with cash and fundraisers. It is a baby step in the right direction.
The Thing is, Bruce is what he is. He has proven himself to be a mostly Championship, sometimes lower Premier League manager. And the latter is where United are.
They want for better, fans all do, but Bruce is a symptom of the malaise, not really the root cause of it.
Although, some awful performances in two years, an appearance of pre-Graeme Jones tactical ineptitude and comments taken as barbs by fans have done little to mend fractures.
The charm offensive on this front is well underway. Tonight Bruce goes LIVE on BBC Radio Newcastle to answer fan questions. Although, anyone expecting a 'free for all' will undoubtedly be disappointed.
The fans - the unlikely villains?
Certain sections of the media are quick to point the finger at Newcastle United fans when things go wrong at St James' Park.
For sure, United fans are critical of their team - but what set of supporters isn't? Surely wanting better for your club is part of being a fan, isn't it?
One thing that is for sure is that fans are not the problem at United, despite what some pedalling the ridiculous 'expectation' narrative would have you believe.
As Bruce - himself accused of pointing the finger - put it as recently as three weeks ago, the support is what makes this club "unique".
But for some this asset is often seen as the club's biggest downfall. This writer does not buy that for one second.