Newcastle United star Callum Wilson has opened up about the 'wheel of fines' that Eddie Howe is said to operate at the club. Over the years Premier League players have shared stories of monumental fines and embarrassing punishments administered by managers when certain rules were broken.
The Newcastle boss is known to run a tight ship at St James' Park and Wilson admitted that there is a punishment system in place for misbehaving players. Speaking on the BBC Sounds' Footballer's Football Podcast, the striker admitted that it is only one misdemeanour that is punished at Newcastle, which is arriving late.
Wilson said: "We only do late at the minute at Newcastle. We have a wheel and you spin it and on the wheel, there are just figures and that's what you have to pay. The maximum is three figures and it's kept quite low-key." Speaking to West Ham striker Michail Antonio, Wilson went on to share that there were more off-the-wall schemes in place when he was at Bournemouth.
He said: "When I was at Bournemouth before we had the same thing for little things like leaving your jumper on the field or leaving your plate out.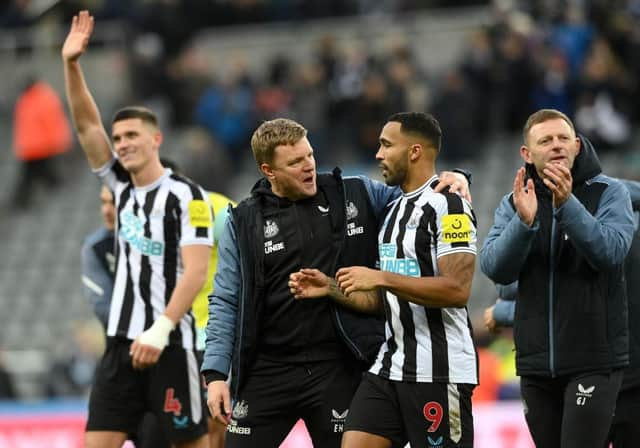 "You'd spin it and there'd be a letter. There would be a sheet and you wouldn't know what you were going to get. 'A' would be for an academy night and you'd go down to the academy and take a coaching session but 'B' could be a boyband song and do that in front of everybody."
Michail Antonio admitted that there was a punishment scheme in place at West Ham too, but it wasn't for such simple errors as timekeeping like at Newcastle.
At The London Stadium, players are only sanctioned for serious misbehaviour. Antonio said: "If you take the mick of how late you're being, the gaffer and club will fine you. It's nothing small, it'll be big boy. It's a percentage [of the salary], not even a fine."