Trevor Sinclair is right, Newcastle United need 'results' - but Steve Bruce isn't the man to deliver them
The pundit has urged the Magpies' new owners to put their faith in the current boss.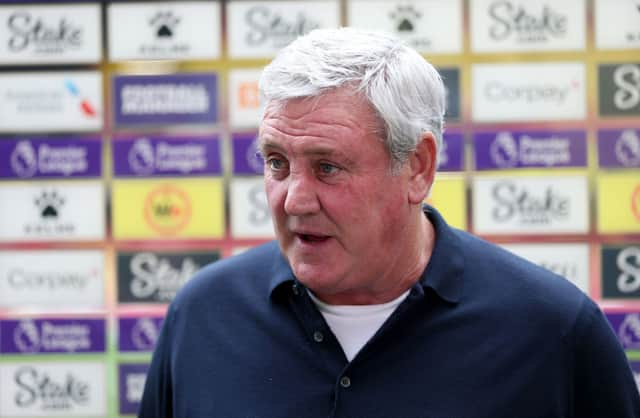 Football is a results business - we've all heard it a million times, but some cliches are cliches for a reason.
You can show all the promise and potential in the world, but without the points to back it up, any managerial tenure is doomed to fail. Equally, a club's fanbase will be willing to overlook an awful lot of antiquated, route one drudgery if it nabs them three points week in, week out.
Steve Bruce's time at Newcastle United has done a fairly consistent job of melding the worst of both of those worlds. Aside from the odd, anomalous upset, the Magpies have struggled for results under the 60-year-old, and a tactical approach that - superficially, at least - seems to amount to, 'Give the ball to Allan and cross your fingers', hasn't done a great deal to convince frustrated supporters that a bright new dawn lies just over the horizon.
In the wake of last week's Saudi takeover, the widely-held expectation was that Bruce would be long gone before the Toon Army ushered in their moneyed new era this weekend against Tottenham Hotspur. Instead, we are eking ever closer to that fixture with no concrete sign of his exit, and no indication that a permanent successor has been decided upon.
Even if, by some previously unforeseen miracle, Bruce does hang on to his job long enough to celebrate his 1,000th game as a manager while still under the employ of his boyhood club, it's hard to see him getting much further beyond that milestone.
And yet, there are still vocal proponents who peddle the belief that he should be given time to prove himself to the new owners. Danny Murphy and Gabby Agbonlahor have both drawn scorn from some supporters in recent days for pushing that exact agenda.
The latest pundit to throw their backing behind the under-fire Toon chief is Trevor Sinclair. Speaking on talkSPORT, the former England international said: "He [Bruce] is going to want clarity. Is he staying to do a job, or is he going to get sacked?
"They can't bring anybody in until January, so while they've got this group of players, they've got a manager that knows how to manage them..."
Sinclair was then interrupted by former Crystal Palace chairman, Simon Jordan, who responded: "The Bruce factor is a negative factor that you don't need, because from what I understand, a significant proportion of Newcastle fans simply don't want Steve Bruce.
"If you're the owner of Newcastle and you now have a popularity count off the Richter scale..."
Sinclair interjected: "It depends whether you're into popularity or you're into results. Popularity shouldn't come into it.
"Steve knows the best players in that team."
Of all the lines of argument that Sinclair could have chosen - not that there are too many - it seems bizarre that he opted for Bruce's ability to get "results" out of this current Toon crop. We're talking about a side who have failed to win any of their opening seven matches this season, and who have won just five of the last 37 league fixtures they've contested.
Results, perhaps more than anything else, have been Bruce's Achilles' heel in recent times - not his salvation.
There's also a certain defeatist streak underpinning the notion that a manager should be kept on purely because he's already in the job and there isn't a transfer window for another couple of months. If that was the precedent by which all clubs enacted their appointments, nobody would ever get fired, with teams instead drifting apathetically into catastrophe, accepting their fate as they amble into the iceberg.
Newcastle's top flight status won't be rubber-stamped by January, but if they're not careful, they could leave themselves with a proverbial mountain to climb over the course of the second half of the season. By then, it truly might not matter who's in the dugout - it could be too little, too late.
By no means is this a personal sleight against Bruce himself either. As a childhood Newcastle fan and somebody with an intrinsic understanding of how important the club is to the city, he will want his side to succeed just as much as any other Geordie.
But even taking last week's takeover out of the equation - even factoring in Mike Ashley's relatively conservative spending and the years of stagnation prior to his arrival - Bruce's position would still have been looking precarious.
To be sitting 19th after seven matches, especially when those matches have included winnable clashes against the likes of Southampton, Watford, and Wolves, is almost criminal.
Football is a results business, and despite what Sinclair and others would have you believe, the results just haven't been good enough.