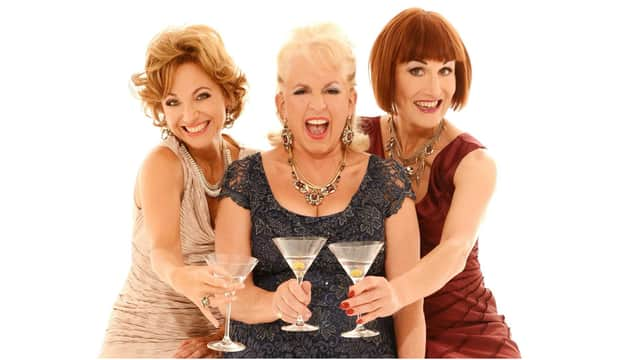 The socially observant songwriters – Dillie Keane, Adèle Anderson and Liza Pulman – are politely rude and hilariously funny, so no wonder they are YouTube sensations with millions of views, despite very little if any TV.
BUY TICKETS: Fascinating Aïda are not to be missed on their current UK tour – for dates, tickets, biographies and more visit www.fascinatingaida.co.uk
Catch them on their 37 date tour this autumn with more venues to follow - including 2021-22 dates at Portsmouth Kings Theatre, Tue, Sept 21, 2021; Huddersfield Lawrence Batley Theatre, Sept 28; Harrogate Royal Hall, Sept 29; Blackburn King George's Hall, Oct 1; Bridlington Spa, Oct 6; Leeds Town Hall, Oct 21 and 22; Bradford St George's Hall, Oct 30 and Hull City Hall, Nov 4; Manchester Royal Northern College of Music (RNCM), Nov 5; Southampton Mayflower Theatre, Nov 14; Nottingham Royal Concert Hall, Feb 2, 2022; Doncaster Cast, Feb 4; York Barbican, Feb 12; Newcastle upon Tyne Theatre Royal, Feb 13 and Feb 27; Scarborough Spa, May 13.
A new video, far too colourful to show here, pokes fun at their lack of TV as only these glamorous ladies can.
"We sing songs of great filth, humour, humanity, that are socially topical and satirical," explains founder Dillie, who says what you see on stage is what you get from them in real life.
She laughed: "That's who I am sadly, yes. I am so potty-mouthed. I grew up in Portsmouth with sailors.
"My mother and father were very respectable people. They despaired of me. My dad was an Irish doctor. And mum was the doctor's wife.
"They did see me on stage. I'm not sure my dad really enjoyed it. He was always very polite about it. Mum enjoyed bits of it hugely. And was bitterly ashamed at other bits."
WATCH VIDEO: Check out our extended full interview with Fascinating Aïda founder Dillie on our Youtube player – or CLICK HERE.
Cabaret heaven. Outrageous, seductive, hilarious and engages the brain as well as the funny-bone.
The plaudits keep on coming for Fascinating Aïda - imagine a mix of posh Victoria Wood, sophisticated Gilbert and Sullivan and Billy Connolly at his filthy best.
Their songs are often written and performed on the same day, making each show unique.
It's no surprise then that COVID is about to get the Fascinating Aida treatment though Dillie, in an exclusive chat, revealed her own 'tough and ghastly time' during the pandemic.
Her partner lost two best friends and two brothers, one from COVID. Their Labrador also died on top of all that.
Dillie said: " Yes, COVID is making a bit of an appearance. Not too much. I think people are a bit sick of it. You've got to acknowledge that it's happened. You can't get away from that. So we've got one quite wry look at it, which I think will make people laugh and the odd reference to it throughout the show. It's natural. It's life. Our shows are about life and COVID's happened. It's not going to be doomy, it's good to be bearable. What people need is cheering up.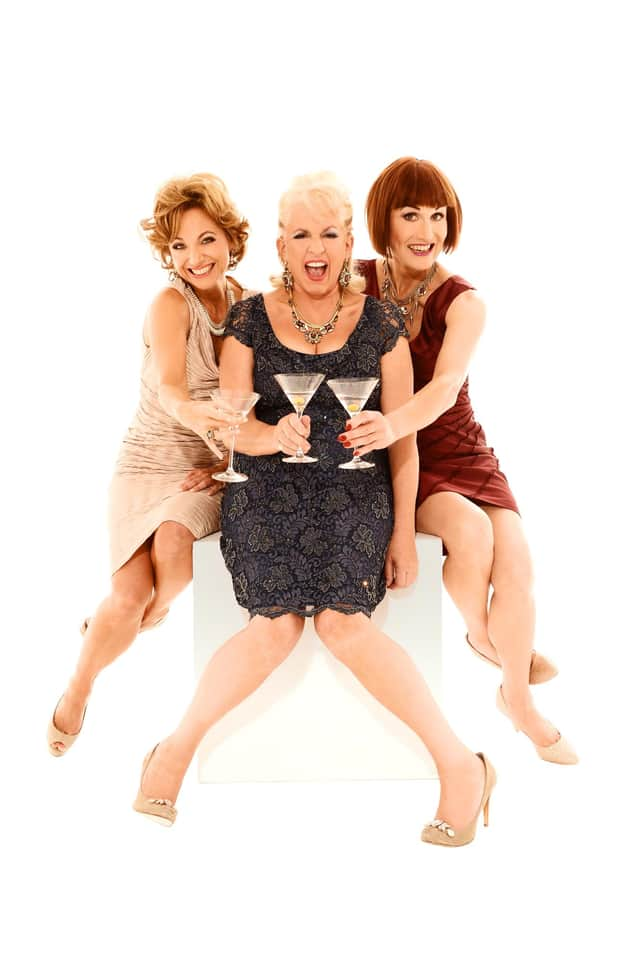 "We've written a special song that could only have been written because COVID happened - about the holidays. I'll tell no more because I don't want to spoil the joke, but it's really funny and charming.
"The show goes from hilarious to very, very silly, to really funny, but very sharp. And then it goes to heartbreaking. Because life is a gamut of emotions.
"We always have one song that's guaranteed to break people's heart. They will come up to us afterwards and say 'I didn't know you were going to do that, you made me cry'. But if we don't show our hearts, then it makes the material very heartless because some of it is really, really tough.
"We do things that are slightly age defying, we have no sense of horror of our own age or what we should be doing and no sense of needing to retire.
"And for old girls were really quite modern. I insisted on putting cheap flights on YouTube and it had a million views in a month, which was very exciting.
"I think we also invented the idea of the online programme. I'm a bit of an eco warrior. I've got an eco blog. One of the things that always saddened me was I like to print a programme but you don't sell some and are carting around boxes. There's more wastepaper and yet more trees being cut down. So we invented the online programme. We have yet to update it but it's out there. And it's free and no trees got cut down."
FREE PROGRAMME: Download Fascinating Aïda's free digital show programme – CLICK HERE.
So what else is fascinating about Fascinating Aida?
A fan favourite segment of the show is called Bulgarian Song Cycle – where the girls perform short topical interest songs, so new many of them are wrtitten and performed that night, making very show unique.
Dillie said: "The format of the show is that it's mostly songs and we chat in between about what's coming up and our lives - the patter's quite fun. We're not stand up comedians, but what we can do is make you laugh at the songs. There's a wide range of styles, so even if you didn't enjoy the third song you'll enjoy the fourth, and we sing in harmony.
"I've worked with Adèle for 38 years. I see more of her than I do my partner. We've always worked wonderfully together and we're blessed to have the wonderful Liza and her absolutely glorious voice. She sounds a bit like Barbra Streisand at times and other times just a wonderfully light soprano voice."
With three Olivier Award nominations, performances at hundreds of theatres in the UK, Ireland and around the world, Fascinating Aida has a huge army of followers - though they've had little TV.
Dillie added: "We cover a huge range of topics with different styles of songs. You don't really know what Fascinating Aida is if we just sing one song. So as a TV guest, we're absolutely hopeless. It doesn't really work. What we really needed was a TV special and the great thing is that YouTube has been our special - it has been fantastic for us and we've had millions of views."
Dillie starred in her own off Broadway cabaret show, the wonderfully titled Hello Dillie and all three girls plan to continue their solo work alongside Fascinating Aida.
Adele, who co-writes much of their material with Dillie, is also an acclaimed cabaret and jazz singer, with film and TV credits to her name.
Liza's shows include a Barbra Streisand tribute act.
Fascinating Aida have a special additional line-up guest on their forthcoming tour, Musical Director, composer and pianist Michael Roulston who will join the girls on stage.
Twitter: @FascinatingAida @DillieKeane @liza_pulman @michaelroulston