The 1975 are currently embarking on one of their most ambitious tours yet with a stop in Newcastle next week. With the 'At Their Very Best' tour, the band are bringing together a greatest hits set alongside a series of songs from their new album Being Funny In A Foreign Language and impressive stage production to put together a show to remember. This is all you need to know about the show at Newcastle's Utilita Arena.
When are The 1975 playing a concert in Newcastle?
The indie pop band will be playing in Newcastle on Wednesday, January 25. The tour started in Brighton on Sunday, January 8 with Newcastle being the 13th show of the tour.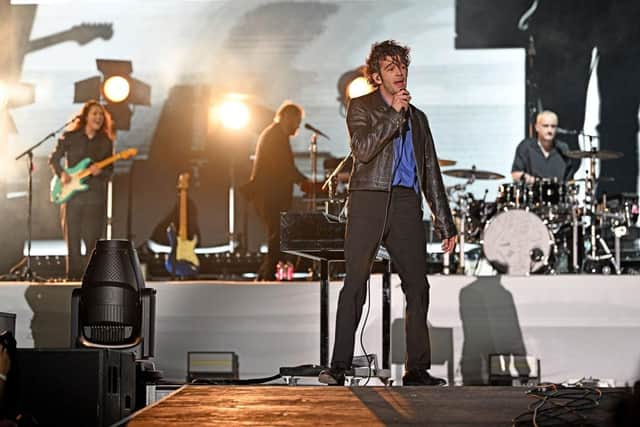 The group last played at Newcastle's arena back in February 2020 – one month before the Coronavirus pandemic forced live music to pause across the country. This was to promote their third album A Brief Inquiry Into Online Relationships. Since then the group released Notes On A Conditional Form in May 2020 and Being Funny In A Foreign Language in October 2022.
Who is supporting The 1975 on their UK tour?
The 1975 have welcomed Bonnie Kemplay on the tour throughout the UK with the singer songwriter opening shows across the country. Kemplay released her newest EP Running Out Of Things To Say, Running Out Of Things To Do in November 2022.
Are tickets still available for The 1975 in Newcastle?
General sale tickets have already sold out for the show with no resale tickets available on Ticketmaster's resale portal at the time of writing. This may change closer to the gig.
What are the Set times for The 1975 in Newcastle?
The Utilita Arena website says doors for the show open at 6pm with Bonnie Kemplay starting from around 7pm. The 1975 are usually on stage from around 8:30pm.
How to get to Newcastle's Utilita Arena
There are 600 official car parking places to the western end of the arena.
If this car park is full, the arena recommends gig goes use the NCP car park next to the Arena, with its entrance on Redheugh Bridge Road. The usual fee for events is £8.
Newcastle Central station is a ten minute walk from the venue and has regular National Rail and Tyne and Wear Metro services while Haymarket Bus Station is a 20 minute walk away.
What is The 1975 setlist for their 2023 UK tour?
Based on previous shows, fans in Newcastle can expect a similar setlist to the following:
The 1975 (Being Funny In A Foreign Language version)
Looking For Somebody (To Love)
I Like America And America Likes Me
If You're Too Shy (Let Me Know)
It's Not Living (If It's Not With You)
I always Wanna Die (Sometimes)