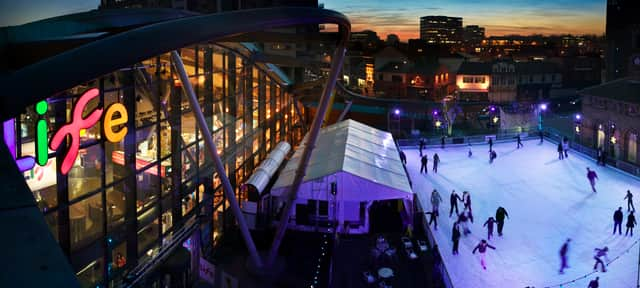 It simply wouldn't be Christmas in Newcastle without the Centre for Life's annual ice skating rink.
The attraction has become one of Tyneside's most-loved festive traditions and is back with a bang again this year.
The open-air ice rink will open in less than two weeks and will run right through the festive period and into the New Year.
NewcastleWorld.com has all you need to know to plan your visit to the Centre for Life ice rink.
When is the ice rink open?
The Centre for Life will open the 2021 ice rink on Saturday, November 13.
The attraction will stay in place all the way until the New Year, closing on Sunday, January 9.
Do I need to book in advance?
Tickets for time slots can be purchased online ahead of your visit.
However, this is not compulsory and some slots will be kept open for walk-ins.
Group bookings should reserve places in advance, with discounts available, and pre-booking is essential to skate on Christmas Eve.
How much does it cost?
Prices to skate vary on age and what you're after.
This year the Centre for Life is offering combined tickets that allow customers to experience the museum as well as the rink.
Family of 4 (max 2 adults): Skate only: £33.50, super saver skate and centre: £48.00
Adults: Skate only: £11.50, super saver skate and centre: £19.00
Concessions: Skate only: £10.50, super saver skate and centre: £17.00
Children (5-17 years): Skate only: £9.00, super saver skate and centre: £14.00
Children (aged 4 and under): Skate only: £4.00 (admission to science centre is free)