Cote Brasserie Newcastle review: I thought soup for starter was for weirdos - now I'm a French onion convert!
Our editor Liam Kennedy stepped into the world of French cuisine for the first time, all in the name of content - and he was not disappointed.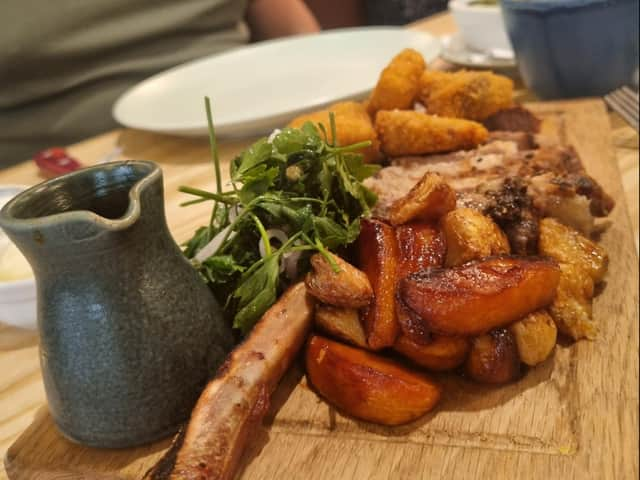 I'll admit, I'm no Francophile. I haven't been to France - although I'd like to - nor have I ever really eaten French cuisine. I'd say my only familiarity with the culture was GCSE languages - I got a D - and the various enigmatic and flamboyant Gallic attackers who've turned up on Tyneside to wear the famous black and white.

Most Popular
The moment you walk through the door you're greeted with an air of elegance, relaxed in its nature.
From the sweeping bar with its array of alcoholic offerings to the familiar sounds of clinking glasses, chilled conversation and warm, Friday lunch date vibes.
Having been greeted at an elaborate floral entrance, myself and my foodie partner for the day - my much more Franco-savvy wife - we were led past a sweeping, lavishly stocked bar into a cosy booth at the back end of the restaurant, the particular corner of which looks out into the fittingly classy Central Arcade.
With a swift working lunch on the menu, and a want to indulge ahead of the return to school runs and reality in a few hours, we dived head first into the continental wonders on offer.
Crusty bread slathered with salty, rich butter and olives, maybe not France's biggest export, kicked us off. And when I say 'off' we really got stuck into what this new Autumn menu has to offer.
A couple of absolute Cote staples were then presented to the table, in the shape of French onion soup for myself, and Moules Normande for my partner.
The rich and creamy fish broth that bathed the rope-grown mussels cut a perfect partner for the crisp blush rose that clung to our glasses and hearts. The soup, never really one I'd start a meal with, was revolutionary. Life-changing, in fact. I always thought a soup starter was for weirdos. I'll never turn my nose up again. I'll be looking this one up, everywhere I go. It was layers and layers of onion heaven.
Then came the main event, so carefully recommended to us by the knowledgeable, attentive waiting staff.
Pork Tomahawk. And wow, this did not disappoint.
This sharer came with a huge slab of free-range Dingley Dell pork chop, accompanied with crisp balls of loveliness in the shape of pork belly croquettes with a herb potato puree, glazed apples and roast garlic. The Calvados jus, or gravy for us less refined diners, was divine. My only fault was the puree, or mash, lacked a little je ne sais quoi.
My sides of choice were truffle chips - a guaranteed win - and creamed spinach, a hearty, smooth bed fellow to the immaculately presented and inviting pork.
Next came the deserts. Room was tough to find, but when in Rome. Well, Paris more like.
My conviction on this course is not quite as strong as my anti-soup stance, but does have solid foundation on the selection front.
I'm absolutely partial to a chocolate fondant, so guess what I ordered?
Served with a beautiful vanilla scoop, this cocoa inferno oozed with gooey chocolate fountains hitting the spot for my sweetest of sweet tooths. We also went for the Chocolate & praline crepe which came with caramelised bananas, Chantilly cream.
And when father time began to bear down on us, with school finish time edging ever closer and a website still to populate ahead of the weekend, my coffee with cream to finish was transferred helpfully to a cup to go, meaning the joys of a delectable afternoon in French escapism lasted just that little bit longer.
It's a chain, but breaks that moniker with it's service and far from generic feel. Will be back for soup and more, very, very soon.