Glastonbury 2022: Inhaler fail to breathe much life into The John Peel stage
Inhaler have some strong songs behind them but their performance at the John Peel stage felt a tad flat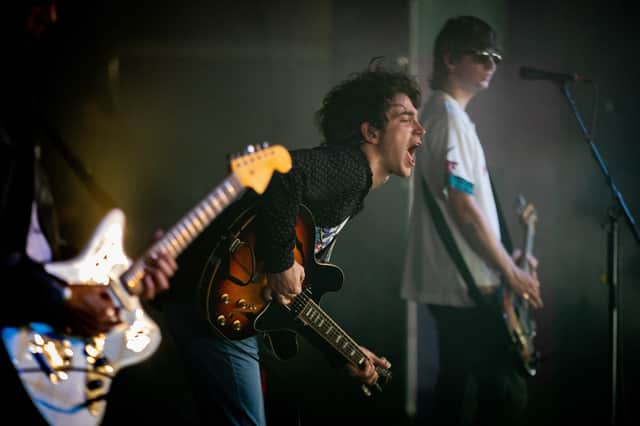 Inhaler made for a forgettable early feature on The John Peel Stage
'We've been waiting our whole lives for this moment,' frontman Elijah Hewson proclaims.
As generic a sentiment that is, it is true for Inhaler, whose performance on Glastonbury's legendary John Peel stage gives viewers a tour through their growing discography.
A frontman of the classic variety, Hewson's lyrical waxings and engagement with the audience are nothing incredible but do provide host to some excellent instrumentals.

Most Popular
An inevitable outing of It Won't Always Be Like This is, surprisingly, not the highlight of the set.
Inhaler were as light and forgettable as can be expected for the backing group of Bono's son
The denim-clad backing troupe of Inhaler mark some interesting moments in an otherwise fine set of indie-rock tracks.
Their presence on the Peel Stage and the light show that surrounds them makes Inhaler feel far bigger than the platform they're standing on.
When it Breaks marks the band's best moment - that perfect coupling of strong lyrical sense and guitar riffs that don't shake the singer but surround him and make his task of projecting theme and meaning onto an audience that much easier.
Hewson appears to have inherited the talent his father, Bono, has for lyrical melodies and powerful vocals.
But that is where the comparison with the U2 frontman ends, because Hewson is very much his own performer, and Inhaler is crucially different to the defining Irish rock band.
They have a long way to go before they hit those U2 heights, but the relatively plain set Inhaler provides here highlights a clear direction for their music, which could do with a little more variety to shake up the set and cut through the trenches of indie rock.
Still, light and catchy pop-oriented indie rock is a great place to start. Who's Your Money On? (Plastic House) marks the high point of the show for those upbeat indie sounds.