We are already so excited for Halloween approaching, and now we have an exciting event to look forward to!
Family Fright Fest returns to the North East this Autumn, promising to be bigger and better than ever before! Find out all you need to know about the scarily good event below.
What is Family Fright Fest and what is there?
Family Fright Fest is a Halloween event suitable for children of all ages. You can expect a full programme of shows, attractions and activities.
Shows will include performances from costumed characters, a talent extravaganza, magic and superheroes.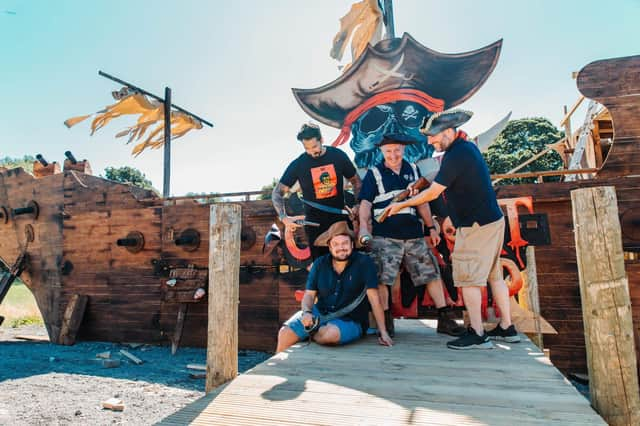 There are plenty of exciting attractions to enjoy, such as the IScream maze, which is also featured at the adult's version of the event Pyscho Path, but is a toned down version suitable for children. A brand-new instalment for this year is the pirate galleon, where visitors can step aboard a 70 feet long ship to visit pirate town. There are also fairground rides.
On the farm you can find the pumpkin patch, where visitors can pick their own pumpkin to take home. More fun activities include the fun and games barn and the wizard school.
Family Fright Fest is organised by event company 700 Acres which runs the Family Fright Fest and Psycho Path, the adults only scare park which also takes place at the site.
Where is Family Fright Fest held?
Family Fright Fest is located in Lintz Hall Farm in Burnopfield. It is a 25 minute drive from Newcastle city centre, and can be accessed via public transport too.
What is the date of Family Fright Fest?
October 22 is the day to put in your diary, as that is the launch day, however you can also visit on October 23, 29 and 30. Last year's events were a complete sell-out so it is advised to get booked in fast! Gates open each day at 11am and the event runs until 4pm.
Should the kids dress up in Halloween costumes?
It is not compulsory but actively encouraged that children attend in fancy dress. There are opportunities for prizes to be won for those in costumes. There will also be plenty of other giveaways throughout the day.
Are there food options?
Yes! There are a great deal of food options available, as visitors will have access to the Street Food Village. Options include burgers, fish and chips, duck wraps, loaded fries, parmos, pizzas and doughnuts.
What are the ticket prices and where can I buy them?
Tickets are priced at £9 for children (aged 1-15), and £12 for adults (16+). There are also family ticket options available, at £32 for a family of four, and £39 for a family of five. Tickets are on sale now and can be bought at the Family Fright Fest website.
Tickets are also still available for Psycho Path, which begins on September 30 and then runs every weekend until October 30, ending in The Big Blaze event on November 5. For further information visit the Psycho Path website.