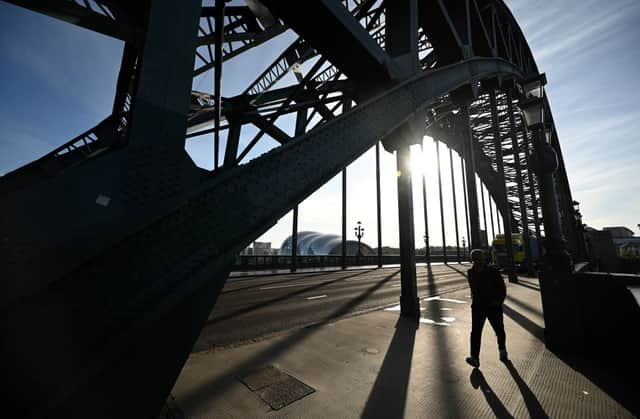 A grand total of 57,000 determined and dedicated runners will line up on the start line this Sunday, September 12 as they aim to complete the new look 13 miles.
The rethought Great North Run route will take runners across the Tyne Bridge and into Gateshead, before looping back to finish in the city centre.
Participants will be relieved that the sweltering heat of last weekend has given way, although recent thunderstorms will have added a new worry when it comes to race day conditions.
Luckily, it's set to have cleared up by the weekend and it should be a cool, dry day for the race.
Newcastle World breaks down the hour by hour forecast for Sunday, so you know what to expect when running of cheering on the Great North Run.
Sunday, September 12
6 am - Cloudy, highs of 11 degrees and 9% chance of rain
7 am - Cloudy, highs of 11 degrees and 11% chance of rain
8 am - Cloudy, highs of 11 degrees and 12% chance of rain
Coverage of the Great North Run begins at 8:30 am on BBC 2
9 am - Cloudy, highs of 12 degrees and 12% chance of rain
The elite wheelchair and visually impaired start at 9:15 am
The elite women start at 9:20 am
The Great North Run is live on BBC 1 at 9:30 am
The elite men and orange wave start at 9:45 am
10 am - Cloudy, highs of 12 degrees and 12% chance of rain
11 am - Cloudy, highs of 1e degrees and 12% chance of rain
The white wave start at 11:05 am
12 pm - Cloudy, highs of 13 degrees and 12% chance of rain
The green wave start at 12:25 am
1 pm - Cloudy, highs of 13 degrees and 12% chance of rain
2 pm - Cloudy, highs of 13 degrees and 11% chance of rain
3 pm - Cloudy, highs of 14 degrees and 9% chance of rain
4 pm - Cloudy, highs of 13 degrees and 7% chance of rain
5 pm - Cloudy, highs of 14 degrees and 7% chance of rain
6 pm - Cloudy with sun, highs of 13 degrees and 6% chance of rain
7 pm - Cloudy with sun, highs of 13 degrees and 7% chance of rain
8 pm - Cloudy, highs of 12 degrees and 7% chance of rain
9 pm - Cloudy, highs of 11 degrees and 7% chance of rain
10 pm - Cloudy, highs of 10 degrees and 6% chance of rain
11 pm - Cloudy, highs of 10 degrees and 6% chance of rain
Weather forecast according to BBC and correct as of midday Friday, September 10