It's a Sunday evening in Newcastle, and we are attending Anastacia's sold-out I'm Outta Lockdown 2022 tour supported by pop artist SHAB.
It's the first time that I've seen the floor of the O2 City Hall with seating rather than standing. Not that it matters, within the first few seconds of Anastacia gracing the stage, everyone in the venue is on their feet, cheering, dancing and singing.
But let's not skip too far ahead, as I first must discuss the support act SHAB. She arrived on the stage like a ready-made pop star, radiating super star energy alongside two dancers and a multi-instrumentalist introduced as Mike. Her songs were great, especially Down To The Wire and her newest track Sexual. They both caught my attention as club hits, and I could definitely see SHAB being the next chart topper, with a bit of extra work on her vocals. I also would love to see SHAB collaborate with a big name musician in the dance genre such as David Guetta, Nathan Dawe or Calvin Harris, that in my opinion would work exceptionally well. SHAB also seemed like a really nice person, and was happy to meet fans after her set in the lobby of the O2.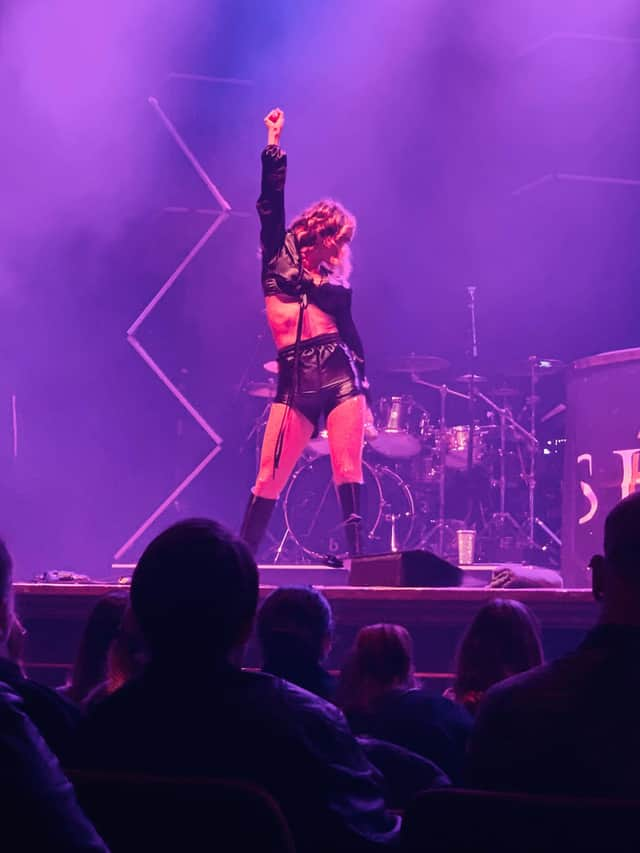 Anastacia took the stage with a full ensemble of performers. She herself has not changed one bit since her debut in 2000 - she looks the same, and sounds the same too. She looked gorgeous with her beautiful blonde hair, trademark glasses, and even made the questionable outfit choices look good somehow. But most importantly, her vocals were just as strong (as if not stronger) than they were back then.
Anastacia has an unmistakable, remarkable voice, which is incredibly powerful. She made a joke about "Anastacia virgins" - meaning that people that had never seen her perform live (myself included in this), not knowing if she'd be any good. But to be quite honest, she was far better than I actually expected. I actually believe her vocals sound better live than they do on her studio recordings.
It was an excellent show, and even though I only knew her big hits, I'm Outta Love, Left Outside Alone and Sick and Tired, I found myself dancing away to every single track performed. There's no denying that Anastacia is a true performer, she knows how to work a crowd (she made hilarious commentary throughout the whole show), and has the type of stage presence that most performers would kill to have.
However, what stuck with me the most wasn't actually her vocal and performing talents, but rather her personality. As I mentioned earlier, she communicated with the crowd in a hilarious yet lovely manner - thanking everyone for their support throughout, making jokes and also sending positive messages surrounding mental health and kindness.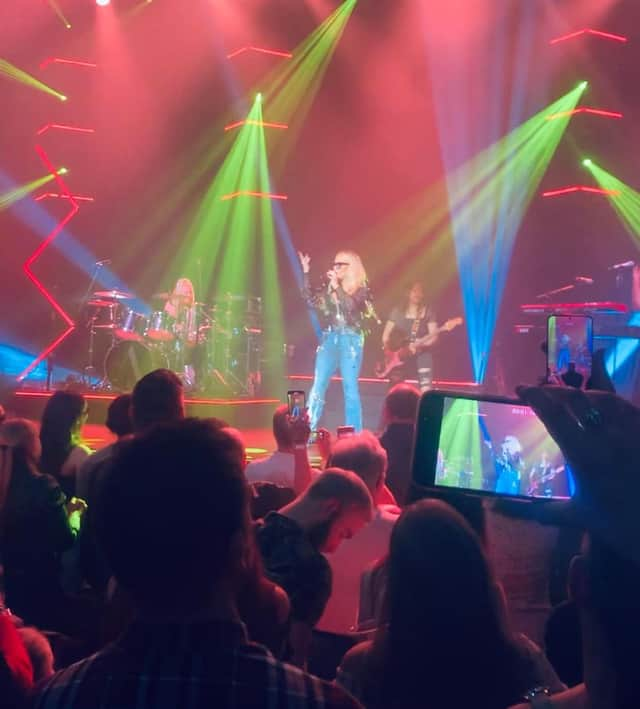 What also struck me as different from other shows I've seen is that Anastacia really let the other performers shine and showcase their own individual talents. First of all she introduced them from the offset, so that we all knew their names and what they did - then she let them have their own moments, which I thought was absolutely amazing and they all deserve just as much recognition for how gifted they are.
First of all there were three dancers, Robbie, Rose and Yasmin who absolutely dominated the stage and told the stories of the songs through their choreography. Then we had backing singer, Shanice who really needs to be a solo artist in her own right. She surprised us with her own performance and some astonishing high notes. Then we had guitarist and vocalist Pete, multi-instrumentalist Minnie and drummer Vicky - all of which also got their chance to show the audience what they could do - and did not disappoint!
Overall, it was an absolutely amazing show thanks to not just Anastacia but all of the exceptional talent that came together to make it an amazing night for Newcastle.