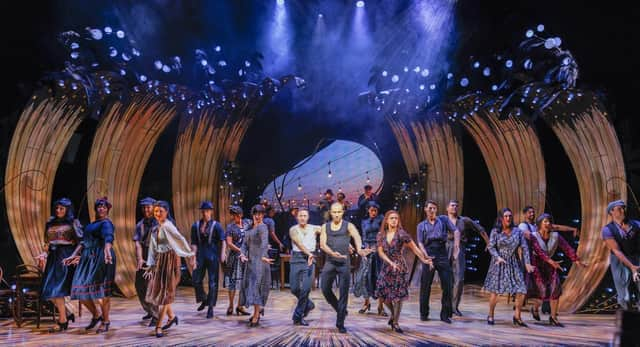 Strictly Ballroom The Musical has this week two-stepped its way to Sunderland Empire to give audiences a peek behind the curtains into the REAL world of competitive dancing.
It's a show that's full of laughter, fun and sequins – and it's no surprise with direction and choreography from Strictly Come Dancing favourite Craig Revel Horwood.
The show kicks off with a speech from the man himself, setting the tone perfectly and rousing a cheeky laugh or two from the audience.
For 'Strictly' fans, it's not long before 2018 champion Kevin Clifton makes his appearance on stage as young ballroom dancer Scott Hastings, twirling and whirling effortlessly to the first number. Scott's rebellious attitude and radical dance moves see him fall out of favour with the Australian Federation, which leads him to the arms of beginner Fran – played by Eastender's Maisie Smith.
I'll admit, I knew little of the Aussie smash-hit story before seeing the show – which likely shows my age! But it's easy to see why this tale has stood the test of time, from the stage to film and back again.
As Scott and Fran start to find their feet, their plan looks to be derailed, as big boss Barry Fife does everything in his power to stop the couple in their tracks.
The lengths Barry will go to knows no limits, which certainly makes for interesting viewing and raises a few eyebrows. But the unassuming couple stand strong and follow the rhythm of their hearts to an electric finale, with help from Fran's Spanish parents.
Throughout, it's clear to see Kevin and Maisie are enjoying their parts in this fun-filled show. As well as perfectly matched dance moves, the pair's singing voices complement one another's beautifully.
If you're a fan of Strictly and have a soft spot for a good-old love story and the paso doble, this is simply unmissable.
Strictly Ballroom The Musical is showing at Sunderland Empire until Saturday October 15. Tickets are available to purchase at www.ATGtickets.com/sunderland or at the ticket centre on 0844 871 7615, priced from just £13.
Our visit also coincided with the opening night of Sunderland Empire's new bistro Pizza al Teatro. It offers theatregoers the opportunity to sample some of the best pizza I have ever tasted – and I've eaten a lot of good pizza in my time!
Starting from £7.95, the Neapolitan-style sourdough bases are hand-stretched and stone-baked to perfection to create the perfect foundation for a choice of six toppings. My personal favourite is the "Bianca".