The Book of Mormon: Highly offensive but absolutely brilliant with an important message
The show is currently at the Sunderland Empire
Watch more of our videos on Shots!
and live on Freeview channel 276
Visit Shots! now
The Book of Mormon is a musical theatre production from the creators of South Park. That was the only fact I knew about the show, and decided to keep it that way after how successful I found going in blind was when I went to watch Blood Brothers last month. Casting my mind back to the few episodes of South Park I had seen, I was slightly unsure whether I would enjoy this musical, as South Park was never my thing.
I've never found highly inappropriate or offensive jokes funny, and I had a feeling that's what I was in for with The Book of Mormon. Having said that, I was hugely intrigued by the Mormon concept of the show, and interested to find out where the plot would go.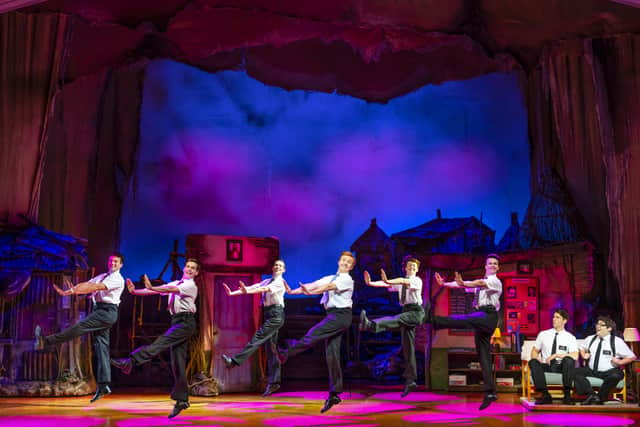 Nothing could have prepared me for this show. I have never seen anything quite like it in my entire life. I have to start off by saying that the show really isn't for the faint of heart or easily offended. At first, I couldn't decide how I felt about this, as I believe that jokes that are heavy on shock-value are not actually that funny at all, just shocking. But The Book of Mormon handled them with such intelligence and with important meaning behind that my interpretation was to get the audience to understand an important issue, it must be delivered in a comedic way.
In The Book of Mormon, two young Mormons are sent on a missionary journey to Uganda to convert the people there to the Mormon religion. However, the people of Uganda are facing horrific circumstances within their village, such as famine, female genital mutilation and rape, and don't think that believing in a god will solve those problems. Although uncomfortable topics, these are unfortunately real problems that people face around the world and The Book of Mormon helped to bring that to the forefront of people's minds.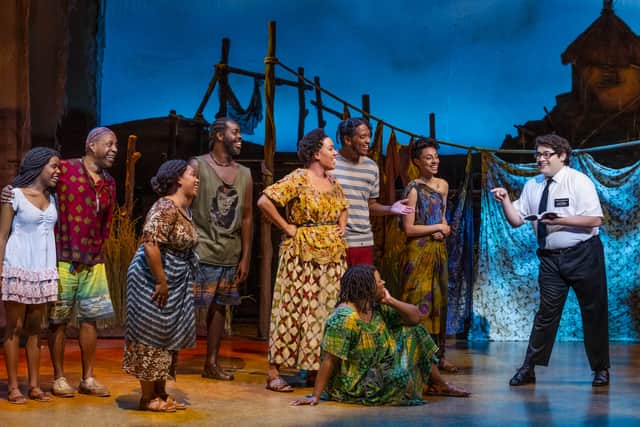 The talent of the actors though, was what really made the show to be as good as it was. The main characters are Elder Price (handsome, smart and very confident within himself) played by Robert Colvin, Elder Cunningham (a clumsy, pathological liar who is desperate to be liked) played by Conner Peirson and Nabulungi (a sweet Ugandan girl who believes in what she is told) played by Aviva Tulley. The chemistry on stage between all three was wonderful to watch, and they really held the show together with the delivery of amazing scenes - both heartbreaking and funny. I felt the vocals from both Robert Colvin and Conner Peirson could have been stronger, however their acting ability made up for that. Aviva Tulley's voice, on the other hand, sounded like the vocal equivalent of gold. Tulley also delivered the scenes with ease and subtle hilarity.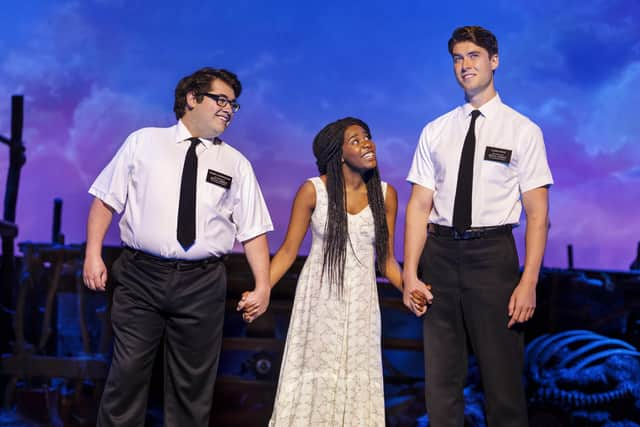 However, the stand-out performers for me were Ewen Cummins who played Mafala Hatimni (Nabulungi's father), and Jordan Lee Davies who played Elder McKinley and various other characters. Their comedic timing was impeccable, their deliveries of scenes strong and their characters incredibly believable.  Another thing which I thought was amazing was the set design. You really felt as though you travelled to all of these different locations with the characters. I was in awe of the colours, the intricate details and how the stage completely transformed with each new scene.
Overall, I did enjoy the show but I will admit that I am still feeling slightly uncomfortable by the topics and jokes. The show shocked me for sure but it did make me laugh in certain moments and definitely got me thinking.
You can purchase tickets for The Book of Mormon at the Sunderland Empire here.