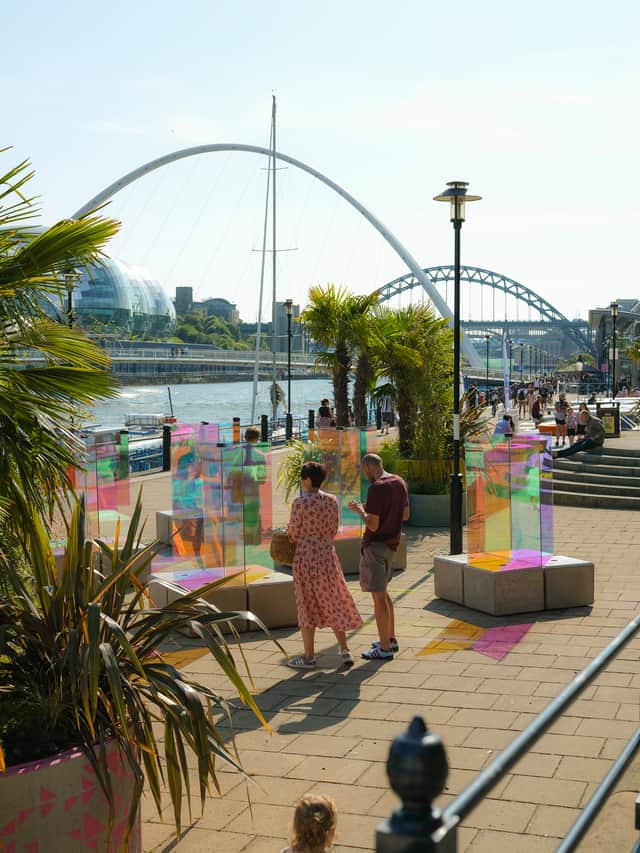 With interactive installations, activities and exhibits appearing across the city the summer in the city programme offers lots of things to do and see for those visiting the city centre in the summer holidays.
NE1 has spent the last six months planning the programme of activities which include a 'linear park' along the Quayside, a See Saw sound and light installation and 3D street art.
Ben Whitfield, Head of Marketing and Events at NE1 said: "We hope to encourage people to rediscover the city, to visit places they have never been before and to make the most of the free, family-friendly activities that will run throughout the school summer holidays."
What's on where for NE1's Summer in the City programme:
NE1's screen on the Green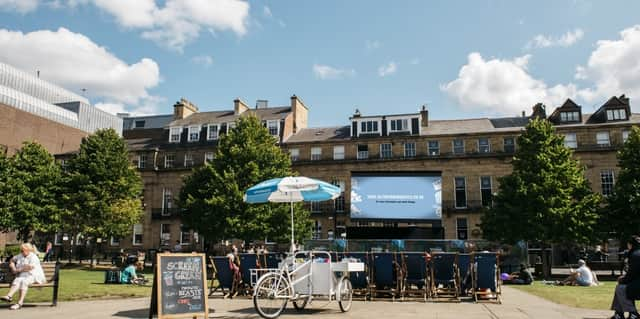 Running: June – September 5
Location: Old Eldon Square
Newcastle welcomes the return of NE1's Screen on the Green, a large open-air cinema at Old Eldon Square showing two free movies a day, one at 12pm and one at 6pm. From classics to family favourites, sporting events and new Hollywood blockbusters, there is something for everyone to enjoy.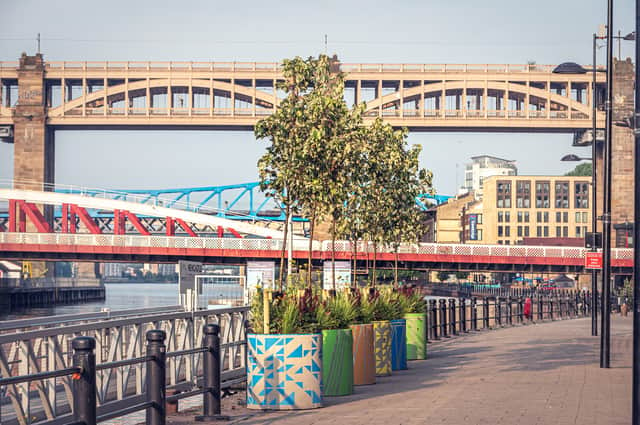 Beginning at the Guildhall, the Quayside Linear Park will spread past the Pitcher and Piano to the East of the Millennium Bridge, a span of over 700m, and includes 72 large concrete planters filled with trees, grasses, bamboo and flowers together with areas to sit and relax so people can stop and enjoy the iconic views of the Quayside along the way.
As well as this NE1 also aim to add more decorative features to the city by working with North East floral design specialists, the Pretty Picture Company to beautify 15 doorways in the city centre as well as the entrance to Eldon Square, which will also remain in place throughout the summer.
Running: July 26- September
Location: Old Eldon Square
NE1 has teamed up with the BALTIC Centre for Contemporary Art and artist Pippa Hale to commission a new set of 'PlayShapes'. Following on from Hale's recent Play Rebellion exhibition in the BALTIC, 16 1-meter cubes have been placed throughout Old Eldon Square for people to use and enjoy freely.
The aim of the cubes is for audiences to reconnect to their creative minds as they can be configured into endless combinations to create sculptures, playscapes, games or even act as chillout spaces.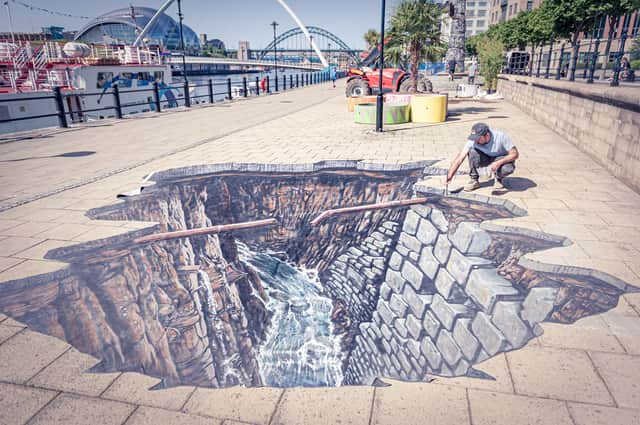 Location: Quayside, Old Eldon Square
Internationally renowned 3-D street artists '3D Joe & Max' have created a show-stopping pavement commission on the Quayside and a second vertical piece on the front of the container that houses Screen on the Green at Old Eldon Square.
3D street art or 'anamorphic' art is 2-dimensional artwork that looks 3D when completed and artists 3D Joe & Max's work in this field is internationally famous and includes the World Record breaking, largest 3D artwork in London as well as pieces in Madrid and Dubai.
Internationally renowned artist, Tim Gresham, otherwise known as 'Mr. Penfold', has created a 75-metre-long pavement vinyl along the busiest stretch of the Quayside, creating a vibrant, colourful, and picture-perfect talking point for visitors.
The artwork features a pattern of shapes and colours, designed by Mr Penfold whose work has been exhibited in galleries and institutions globally. He was chosen by Unit 44, a local art and design consultancy for his expertise in the realms of public art installations.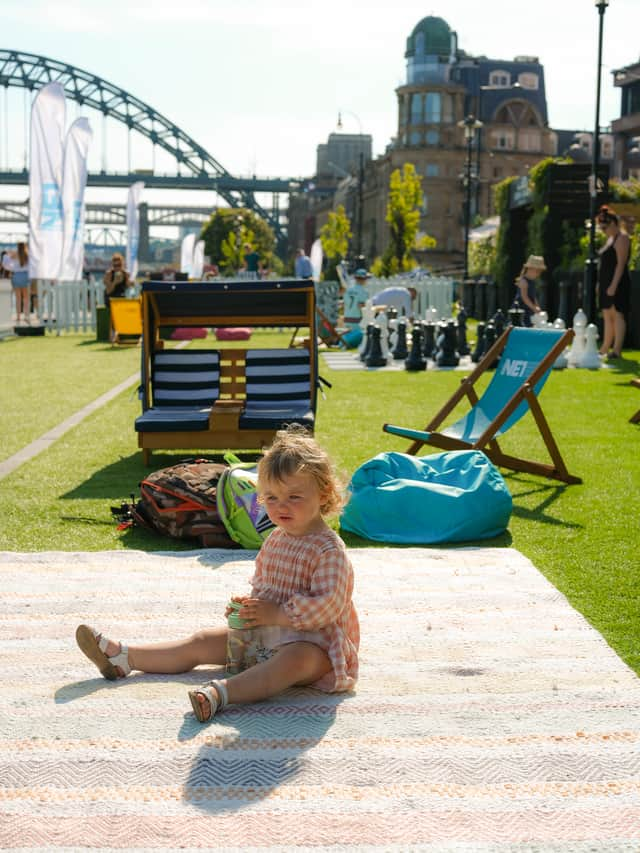 Replacing the Quayside seaside this year is a huge urban garden, double the size of the usual pop-up beach. The garden will extend more than 50 metres in length with astro-turf, planters and the usual quirky and unique seating expected of an NE1 installation.
As well as this there will also be extra space for family-friendly activities as you can expect a host of children's events including yoga and gardening sessions, alongside outdoor rugs and giant garden games for general use at all times.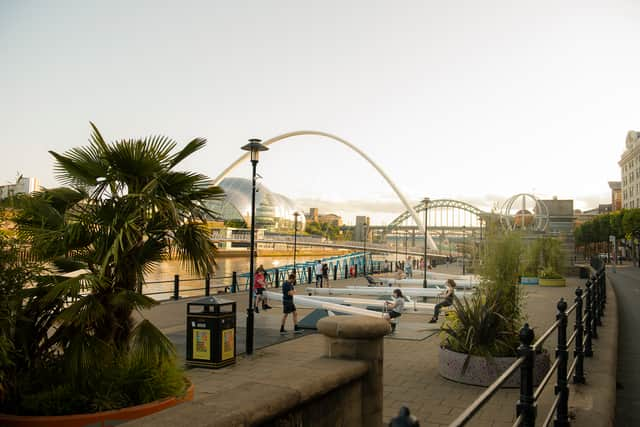 Central to the Urban Garden is 'Wave- Field', an installation of eight giant see-saws for old and young alike to enjoy. The attraction is free to use and open to all (no matter how old you may claim to be) from 9am to 9pm.
However, what makes them so unique is that these see-saws light up and even make a sound whilst in use
Blackett Street Family Fun Weekends
Running: Weekends in August
Location: Blackett Street
Do you have what it takes to beat a World Record? Well now's the time to find out!
Over the four weekends in August, NE1 are hosting Family Fun Weekends on Blackett Street and on August 14 and 15, Phil Pugh will be there attempting to beat the World Record for tyre flipping by embarking on a 24-hour tyre flipping challenge which you will also be able to take part in.
If this isn't your thing, not to worry, you'll also be able to find many outdoor games and fairground rides there.
Talks and Open days with Iles Tours
Running: From July 16 – October 3
Alongside the physical changes to the city, NE1 have also introduced a city- wide activity programme which includes walking tours and historic talks from Iles Tours.
Local historian and tour guide, Alex Iles has teamed up with NE1 to offer discounted tours of the city every Friday and Saturday from July 16.
Two tours will take place each day and will take you to some of Newcastle's most iconic areas.
Tours include The Grainger Market, The Quayside, Bigg Market and Grey's Monument, in which you'll be able to climb to the top and see panoramic views of the city as well as learning about the buildings and streets surrounding this famous landmark.
Each tour is an hour long and costs £5 for adults and £3 for kids but be quick as with only 10 places on each tour it's likely the spaces will fill quickly.
- Grainger Town & Grey's Monument – 11am Friday
- Bigg Market and Old Newcastle – 1pm Friday
- Quayside Tour & Gateshead Millennium Bridge – 11am Saturday
- Grainger Town & Grainger Market – 1pm Saturday
- Quayside Tour & Swing Bridge – 3pm Saturday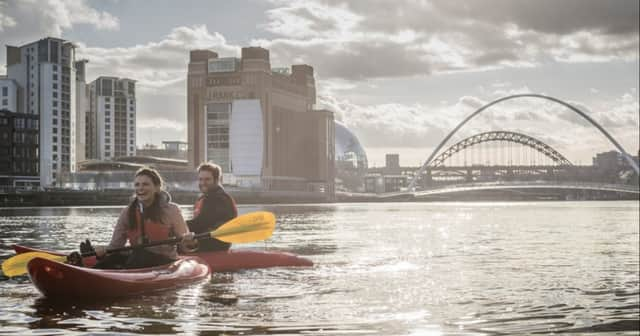 In partnership with CBK Adventures, NE1 is offering Tyne Bridge and Quayside Kayak Tours which are the perfect summer experience that offer a totally new perspective of Newcastle.
NE1 are teaming up with Yoga Therapies to provide three free yoga sessions every week throughout the summer, right up until September.
Sessions will be held on Wednesdays at 6pm and Saturdays at 9:30am on Wesley Square on the Quayside and from August 8 on Sundays at 10:30am on Blackett Street.
Each class will run for 45 minutes and will be completely free of charge, with all equipment provided.
To book your slot, click here.