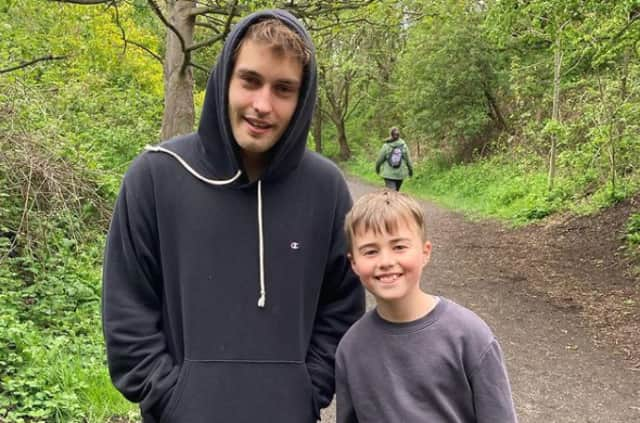 Jack met Sam in a park earlier this year (Image: Instagram @jack_denton_music)
11-year-old Jack Denton was called by the festival's Booker, Steve Tilley, who broke the news.
The surprise was organised by BBC Radio Newcastle who shared the heart-warming clip on social media.
Mr Tilley said: "I was wondering Jack, whether you might want to bring your guitar with you because Sam Fender's people got in touch with me and said could I find you a slot to open one of the smaller stages for new artists.
"So if you're available, and you fancy playing, we would love to have you."
Jack struggled for words but didn't hesitate to accept the huge opportunity.
After composing himself, the youngster said: "I was on BBC Radio Newcastle with Kelly Scott, who's really nice, and we were talking about me playing Crossing The Tyne festival in North Shields, which went really well.
"We were also talking about how far I've come and meeting Sam and all that.
"She started a campaign on Twitter to try and get us supporting Sam or on the same line-up as Sam."
The campaign was a success as Jack saw his name added to The Toon's biggest music weekender, which takes place this weekend.
The surprise didn't end there either for the talented youngster, as he received a special message from Sam Fender to add to his glee.
Sam said: "Yes Jack Denton! How you doing, son?
"I remember when I bumped into you in the park and we had a chat with you and your Dad, and your Dad showed us some of your videos and you were just absolutely class.
"Buzzing that you're going to be playing at This is Tomorrow. You're going to smash it mate, hopefully I can come down and catch your set."
Jack is set to play This is Tomorrow at 1:45 pm on Sunday, September 19, although final times are subject to change.