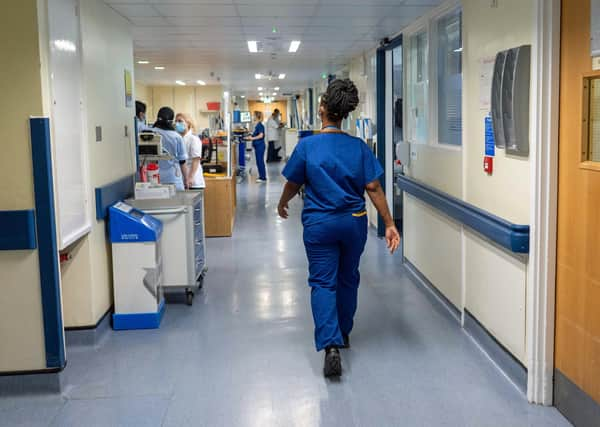 More than 10,000 patients were waiting for routine treatment at Gateshead Health in January, figures show.
The figures come as a leading cancer campaigner calls on the Government to launch a dedicated plan to tackle the backlog in cancer treatment.
NHS England figures show 12,750 patients were waiting for non-urgent elective operations or treatment at Gateshead Health NHS Foundation Trust at the end of January – up from 12,591 in December, and 10,505 in January last year.
Of those, 84 had been waiting for longer than a year.
The median waiting time from referral at an NHS Trust to treatment at Gateshead Health was 11 weeks at the end of January – down from 12 weeks in December.
Nationally, 7.2 million people were waiting to start treatment at the end of January.
Professor Pat Price, co-founder of the #CatchUpWithCancer campaign and leading oncologist, said: "Today's data shows, yet again, more patients waiting longer than ever before for life-saving cancer treatment."
"Without a cancer plan and investment into treatment solutions, such as radiotherapy, I am worried that each month the number of cancer patients missing life-saving targets will continue to swell."
Separate figures from NHS England show that of 60 patients urgently referred by the NHS who were treated at Gateshead Health in January, 32 were receiving cancer treatment within two months of their referral.
A month previously – when 59 patients were referred – 34 were treated within 62 days.
In January 2022, 34 patients were treated within this period, out of 63 that were referred.
Across England, 54.4% of the 15,401 cancer patients who had their first treatment in January after an urgent GP referral had waited less than two months, down from 61.8% the previous month and the lowest figure since records began in 2009.
The Nuffield Trust said NHS will be straining to deliver services for "years to come".
Dr Billy Palmer, Senior Fellow at the organisation, added: "The concerning consequence of the unrelenting pressure on the NHS is that patient safety is being compromised."
Other figures show 1.6 million patients in England were waiting for a key diagnostic test in January – a rise on 1.5 million in December.
At Gateshead Health, 4,843 patients were waiting for one of 12 standard tests, such as an MRI scan, non-obstetric ultrasound or gastroscopy at this time.
Of them, 670 (14%) had been waiting for at least six weeks.
NHS national medical director Professor Stephen Powis said despite strikes and respiratory illnesses over the winter, NHS staff "continued to deliver for patients, bringing down elective waits, treating more cancer patients and delivering more diagnostic tests for people than ever before."
He said: "The NHS will not stop in its efforts to bring down 18 month waits for elective care and bring down the cancer backlog, but it is inevitable that if the upcoming junior doctors strikes happen they will have a significant impact on cancer care and routine operations that were scheduled to happen.
"As ever, we will do all we can to limit the impact to patients," he added.