Thousands of people from across the UK and beyond descend on the North East every year for the Great North Run but there are so many more who are unable to head north and rely on television coverage to soak in the atmosphere of the big day.
With this year being no different, here is all you need to know about watching the Great North Run on TV this weekend.
What channel will the Great North Run be shown on?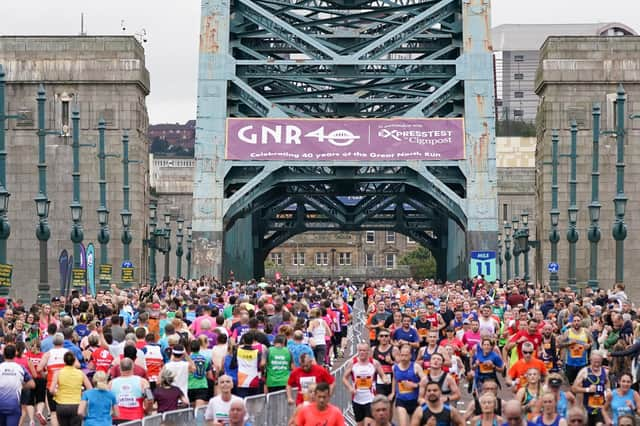 Great North Run coverage will be spread across two channels throughout the morning of the event with the early morning coverage on BBC One being handed over to BBC Two for the remainder of the day.
What time is the BBC showing the Great North Run on TV?
Coverage of the event will start on BBC One at 10am, 15 minutes before the start for the elite wheelchair race which marks the first start of the day.
Coverage will also include the start of the elite women and visually impaired groups at 10:20am and 10:22am respectively as well as the elite men and masses start at 10:45am.
The BBC One slot will run from 10am until 12:10pm, when coverage switches to BBC Two until 2pm.
Both sessions can be viewed on BBC iPlayer.
Who is presenting the BBC Great North Run coverage?
According to the BBC, Gabby Logan will be the main face for the event while former athletes Jeanette Kwakye and JJ Chalmers will be reporting from throughout the route.
Kwakye is a retired sprtinter who represented Great Britain at various athletics championships as well as the 2008 Olympics in Beijing while Chamlers is an Army veteran who participated in the 2014 Invictus Games after being injured in a bomb blast while serving as a Royal Marine in Afghanistan.
Who is in the BBC commentary team for the Great North Run?
A team of three former athletes will offer analysis and insight throughout the day with Gateshead-born and former athlete Steve Cram joined by two-time winner of the elite women's race Paula Radcliffe and eight-time winner of the women's elite wheelchair race Tanni Grey-Thompson.