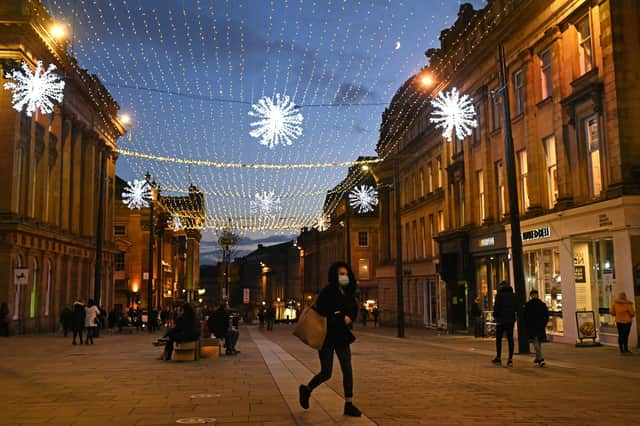 We're powering through November, and December is nearly upon us, meaning time is running out for people across the region to complete their Christmas shopping.
But there's no need to fear if you're a slow buyer because shops and shopping centres across the North East are staying open until the last minute to give Christmas shoppers extra chances to pick up what they need ahead of the festive period.
The city centre shopping centre is extending its opening times from 23 November, allowing shoppers to pick up some gifts into the evening. From Monday to Friday until 23 December the site will be open from 9:00am until 8:00pm.
The centre will also be open later on Saturdays, with buyers able to pick up presents between 9:00am and 7:00pm.
Sunday opening hours will be between 11:00am and 5:00pm. Christmas Eve will also see Eldon Square close at 5:00pm, but with the earlier opening of 9:00am.
Gateshead's Metrocentre are yet to announce their opening times in the build up to Christmas, but very little is expected to change south of the Tyne thanks to the site's 9:00am to 9:00pm regular opening hours.
This is altered over the weekends with the site on Saturday closing at 7:00pm after a 9:00am start and 11:00am until 5:00pm Sunday hours.
Last year saw the site open on Christmas Eve from 9:00am until 5:00pm and the same is expected across 2021.
Those looking to add some extras to their Christmas lunch or find a set of independent, alternative gifts are in luck thanks to Grainger Market.
The stalls are opening up on Sundays from 28 December between 11:00am and 4:00pm. The site is also staying open later for shoppers on Thursdays from 2 December with stalls staying open until 7:30.
A trip to Newcastle in December wouldn't be complete without a look around the Christmas market. Visitors can see what's on offer from 2 December.
The market will be trading from 9:00am until 6:00pm from Monday to Friday, with the exception of Thursdays when stalls close at 7:00pm.
Saturdays will see market stalls open between 10:00am and 5:00pm.
Christmas Eve marks the final day of the market with stalls opening from 9:00am until 4:00pm.