The Fenwick Christmas Window 2022 has been unveiled as Clarice Bean who is the latest character to follow in the footsteps of Paddington, Shaun the Sheep, Charlie and the Chocolate Factory and more.
The department store once again launched its iconic Christmas window display with a virtual event on Sunday evening, with only a small number of children and families getting the invite to witness the reveal in person whilst many others tuned in from home.
Having used some of the most iconic children's stories of all time, this year's theme of Clarice Bean may have caught some fans of the window off-guard. Children's illustrator and author Lauren Child is the name behind the adorable character in the window.
Mia Fenwick, CMO at Fenwick, said: "The Fenwick Christmas window reveal is a much-loved annual tradition not only for our local community in Newcastle but for the tens of thousands of people who now watch around the world.
"This year we are excited to have partnered with award-winning author, Lauren Child, to tell the story of 'Clarice Bean, Think Like an Elf'. Lauren is an iconic British children's author, and her beautiful portrayal of the power of Christmas to bring people together has made her the perfect partner for Fenwick.
"Our Christmas windows have long celebrated the importance of storytelling to inspire children and enable us all to build connections with each other. We are delighted to bring this year's story to life for the global Fenwick community in our 140th anniversary year."
Who is Clarice Bean?
The Clarice Bean character comes from a series of children's books by Lauren Child. The stories follow Clarice, a 12-year-old, as she navigates the complex life of an adolescent at home and at school. There are a total of nine Clarice Bean books, including Think Like an Elf, and the series has made the shortlists for both the British Children's Book of the Year and the Red House Children's Book Award in the past.
In the books, Clarice's family consists of her 5-year-old brother, 14-year-old sister, 16-year-old brother, her father, her mother, her grandfather, and her grandmother.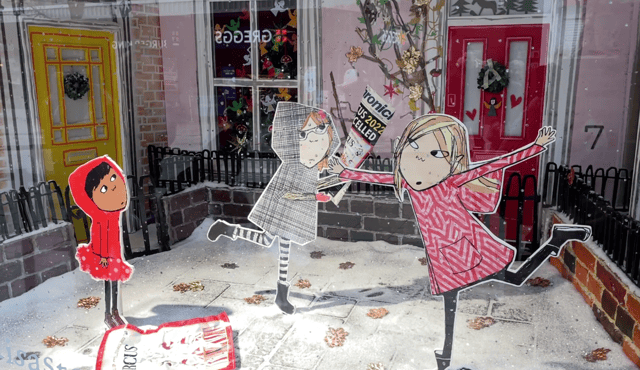 Who is Lauren Child?
Clarice Bean of course wouldn't exist without author Lauren Child. The 56-year-old was born in Berkshire and grew up in Wiltshire before going on to study in Manchester and London. The author was awarded an MBE in 2010 and a CBE in 2021 for her services to children's literature.
If you haven't heard of Clarice Bean, you might have come across Child's work in the form of Charlie and Lola. The picture books became a hit TV show that won multiple BAFTA awards.
What is Clarice Bean doing in the Fenwick Christmas Window 2022?
The storyline in this year's Fenwick Christmas Window follows that of 2021 story Clarice Bean: Think Like an Elf. Across eight windows Clarice tries to save Christmas for her family by working hard to stop the festive spirit from floating away.