Controversial new parkrun dog lead rule divides North East running community
Parkrun participants in the North East are split in response to the controversial new rule
Watch more of our videos on Shots!
and live on Freeview channel 276
Visit Shots! now
A new parkrun rule banning the use of harnesses when running with dogs has divided the North East running community.
parkrun is a worldwide collection of free 5 km events for walkers, runners and volunteers that takes place on Saturday mornings.
The North East is lucky to hold a number of parkrun events from Newcastle's Town Moor to one in Jesmond Dene and from Riverside in Chester-le-Street to on the seafront in South Shields, as well as many more.
parkrun isn't just for humans, with dogs welcomed to take part in the 5 km route alongside their owners.
From this weekend, on Saturday, April 2, the rules surrounding how dogs can take part will change.
No longer can participants run with their pets attached by a harness.
Instead, dogs must be held on a short lead.
The parkrun rule previously read: "One dog per participant, kept under firm control on a short lead, or a harness with a short lead, and care must be taken to avoid tripping others."
It now states: "One dog on a short, handheld, non-extendable lead by the side of the participant, and within reach at all times.
"Care must also be taken to avoid tripping other parkrunners."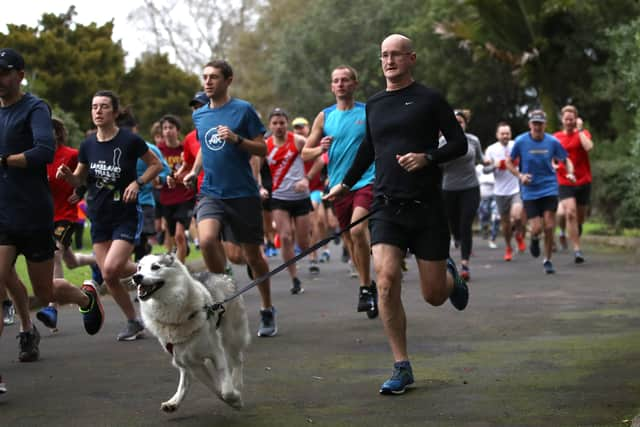 What seems like a small change has caused upset for a number of runners who had invested in equipment to run with their dog in a harness and believe that it was the safest way to do so.
Other runners have welcomed the change after having to dodge dogs on harness leads in the past.
NewcastleWorld spoke to a group of runners in the North East who take part in parkrun events across the region.
Polling on whether the runners supported the parkrun rules change, 55% voted in support and 45% were against.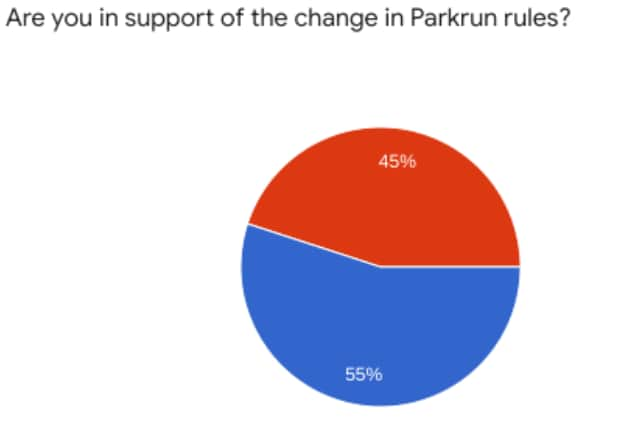 Responses as to why were mixed.
One person said: "Not all runners are dog lovers.
"It makes me very nervous when a dog darts across in front of me, followed later by their owner."
Another said: "For other runners' safety it is important that owners have full control of their dogs by hand."
Others shared experiences of having nearly been taken out by dogs on harness leads.
Someone shared: "I've had an incident with a lead getting wrapped around my leg and dogs running up at you, owner not in control."
Comments of "I'm tired of being tripped up by dogs!" and "despite my love of dogs, I don't think they need to be at parkrun" followed.
Some respondents didn't agree that the change meant a safer course for all.
One runner said: "A dog won't run by your side, the instinct is to lead.
"I think it will be difficult for the humans to maintain the dog at the side and be a distraction meaning increased danger.
"It's also kinder for the dog to pull from the chest than its neck."
Others in the North East claimed that harnesses "provide more control and safe running" and they are "much safer for both dog and human".
Another said: "Unfair on dog runners. Waist belts were created to enjoy running with your dog. Victimising dog owners!"
In a statement released on the parkrun website, organisers explained the reasons behind the rule change.
It read: "We carefully record and review all parkrun-related incidents, and our global incident database allows us to make operational decisions based on the reality of what's happening in our parks and open spaces.
"Over ten per cent of incidents at parkrun events involve dogs, and as such we have spent significant time considering the nature, frequency, and severity of dog-related incidents.
"Our evidence shows that, when participants use waist harnesses, there is an increased risk of serious incidents, particularly trips and falls, compared to when using handheld leads.
"These are typically associated with dogs running in front of other participants, and are occurring when people are together in groups, when people with dogs are overtaking others, and when people with dogs are being overtaken.
"Unfortunately, the nature of parkrunning with a waist harness is such that the lead allows dogs to move from side to side, in front of the participant, which can result in the dog suddenly and unexpectedly crossing in front of other participants on the course."
The rule is now in place, meaning that anyone taking part in a parkrun course this weekend will need to keep the changes in mind.
You can sign up to parkrun and find your nearest event here.