Dine On The Tyne, a popular festive pop-up is now offering an incredibly unique New Year's Eve experience in Newcastle this year.
The dining pods organised by The Dining Society, which have indoor heating, a personal speaker system and free WiFi, are located on Newcastle's Quayside and have been enjoyed by the people of Newcastle over the festive period so far.
This New Year's Eve, the winter pop-up provides guests with amazing views of the Tyne river and the annual New Year laser show from the comfort of a private, warm and transparent dining pod.
The cosy custom-made igloos, which has attracted over 50,000 diners over the past four years, offer groups of up to ten people delicious food options provided by Ramside Hall's award-winning Asian-inspired restaurant, Fusion.
The annual New Year laser show, named The Lasers of Light will be running from Friday 30 December until Sunday January 1, between the hours of 6pm and 11pm - with those in pods getting a perfect view of the show.
To create The Lasers of Light with over 80 lasers installed around the Quayside. The display has been created by BAFTA award-winning artist Seb Lee-Delisle. The display will be between the Tyne Bridge and Millennium Bridge, while also being displayed onto the Sage and the Baltic.
Augusta Gilchrist of The Dining Society commented: "Our cosy pods are the perfect place to come with friends and family to enjoy New Year's Eve with an incredible view of the Tyne Bridge and the city's spectacular New Year Lasers of Light display.
"Those that choose the 8:30 pm booking will have an extended stay until after midnight at no additional cost. We only have a few sittings left for the rest of December and a limited amount of availability for New Year's Eve so we suggest booking soon to avoid disappointment!"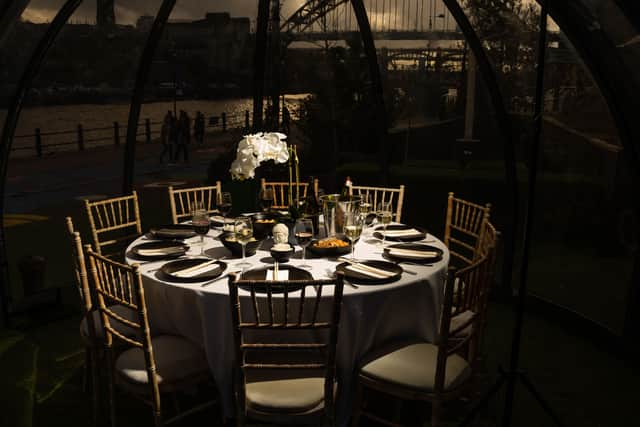 Dine On The Tyne is priced at £45 per person for bookings of 6 people or more. Each booking requires a £100 deposit.