Every Kocktail drink I have ever tasted and their rankings
Newcastle-based alcohol brand Kocktail, sells ready-to-drink bottled cocktails.
Watch more of our videos on Shots!
and live on Freeview channel 276
Visit Shots! now
As someone who is a huge lover of cocktails, I was an instant fan of Newcastle-based alcohol brand Kocktail.
Kocktail, which was founded in 2020, is a company who sell bar-quality, ready-to-drink bottled cocktails, which can be enjoyed from home.
The alcohol brand sells a wide range of flavours to suit all tastes, which have included special limited edition drinks as well as firm cocktail staples.
I have been lucky enough to try quite a few of the cocktails from Kocktail's range, therefore I have decided to rank each one (that I've tried - I haven't tried all just yet) in order of favourites.
Check out my ranking of Kocktail's flavours!
Taking the top spot, has to be their Passionfruit Martini. It's a cocktail that I have loved for years, but Kocktail's version of it is better than any passionfruit martini I have ever tasted. It's fruity, summery and refreshing with the notes of creamy vanilla very prominent.
It will become clear that I am biassed towards fruit-based cocktails, but there's no denying how delicious Kocktail's Passionfruit is, and that is evidenced in the fact it has recently won a Great Taste Award.
Strawberry and Lychee Margarita
Kocktail's newest addition for their summer range, the Strawberry and Lychee Margarita is a super close second. Again, the fruity notes were a highlight for me, and the mix of Strawberry and Lychee made for the perfect combination.  With the inclusion of tequila, the drink is quite strong, which to me is a bonus!
Cherry Cola Old Fashioned
The Cherry Cola Old Fashioned was part of Kocktail's autumn range last year. For fans of Cherry Cola, the sweet yet sour beverage certainly pays homage to the well-loved drink, with an alcoholic twist. I absolutely adored it, despite the fact I never usually enjoy a cola and alcohol mix.
Pumpkin Spiced Espresso Martini
Sadly not on sale anymore, as it was a limited edition autumnal cocktail, the Pumpkin Spice Espresso Martini was a huge hit with me. I'm not a fan of Espresso Martinis but the pumpkin spice certainly sold it for me. If you have ever wondered what autumn would taste like if it was a cocktail, Kocktail's Pumpkin Spiced Espresso Martini is it.
Coming a little further down the list is Kocktail's Chocolate Negroni, which was a twist on the usual Negroni cocktail. I wasn't a huge fan, although I can totally understand why others absolutely love it. Down to personal taste, I didn't enjoy the chocolate aspect (I'm not really a chocolate fan to be completely honest). Having said that, I still enjoyed it.
Last on the list is the Espresso Martini. A firm favourite by many and another Great Taste Award winner, Kocktail's Espresso Martini tastes luxurious and creamy. However, again down to personal preference, the coffee notes were a bit much for me - and I'm not a fan of Espresso Martinis overall. But if you are, then give Kocktail's a try and I'm sure you won't be disappointed.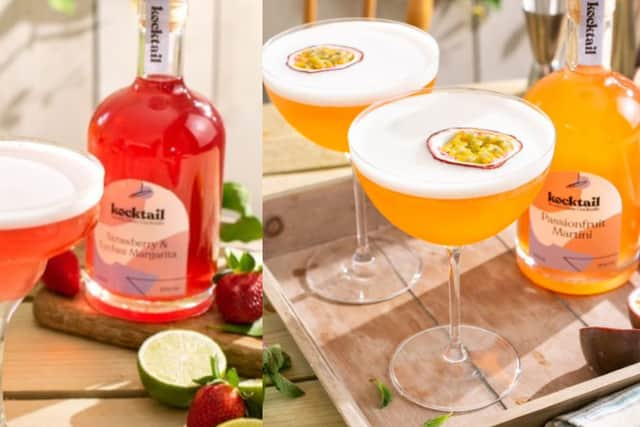 This list has certainly made me realise which types of cocktails are more to my taste, and it's definitely anything with fruit notes. However, every Kocktail drink I have ever tried has been gorgeous. Their signature style of creating cocktails can certainly be tasted in every flavour, and I highly recommend their range!