Laffs 4 Kids is a yearly Christmas comedy event which has been going for around 8 years, hosted by South Shields' comedian Jason Cook. It is back again this year on Sunday December 11, with a huge line-up of comedians from across the UK.
Laffs 4 Kids is in partnership with Metro Radio and Cash 4 Kids, and together (with help of the people of the North East), provide Christmas gifts to kids in the North East who may have gone without otherwise.
We spoke to Jason Cook all about the cause and why it is so important to the North East, and how he managed to create an amazing comedy line-up for 2022.
He told us how the idea for Laffs 4 Kids came to him one night, while having a drink and listening to the radio. "There was an appeal from Cash 4 Kids that said there would be over 35,000 kids in the North East who would be waking up without a Christmas present."
That's when inspiration and an eagerness to help out struck, as Jason called up the station and announced on air that he would do a comedy gig which the audience could pay for with Christmas presents for kids.
After that, it became a yearly Christmas event, as Jason was astonished at how many gifts were donated. Laffs 4 Kids continued to grow, moving to a larger venue and hosting two shows in one day to accommodate the large demand for tickets.
The way that the Laffs 4 Kids event works, Jason explains, is that the audience will pay a ticket to reserve a seat at the show. The audience members will bring brand-new gifts to donate - there is no requirement on amount of gifts, price or size). "Vans from Northumbria Water and Wadds Glass in Gateshead take them to a warehouse, where social services collect and distribute them to the kids that need them," Jason said.
The ticket price covers the hall, the equipment and so on, but Jason assures us that the comedians perform for free. "Any extra profits go to Cash 4 Kids in order to help more children," he said.
Jason said that there is no age range on the gifts for the children brought, but asks that people remember to buy presents for teenagers, as they usually tend to get a lot for younger kids. There are now around 50,000 children in need of gifts in the North East.
Speaking of the comedians who have agreed to take part in the show, Jason explained that it is really easy to book great comedians, as they are always willing to help out. "It's really easy to get people to agree to do it, and we have as much fun as the audience. The line-up includes Matt Richardson, Clinton Baptiste, Carl Hutchinson and many more.
We asked Jason why he thinks it is so important to do this for local kids. He said: "The idea that a kid would go back to school in January, and be asked what they got for Christmas, and they would reply 'nothing', it is really heart-breaking."
"Within a mile of anyone's home, there will be someone in this situation. There are people out there who are working three jobs just to keep the lights on and can't afford to give their kids presents." He continued. "Everyone deserves a present at Christmas."
With the cost of living crisis, Jason is worried that the amount of kids needing presents at Christmas will only continue to grow in numbers. "As much fun as I have doing this, ideally it's a gig I'd love to stop doing because the need wasn't there."
"We collected around 15,000 presents last year and we really want to beat that this year." Jason said. He also said that those who help out by coming to the gigs and bringing gifts should take a second on Christmas Day to remember their generosity and how they have helped a child in need.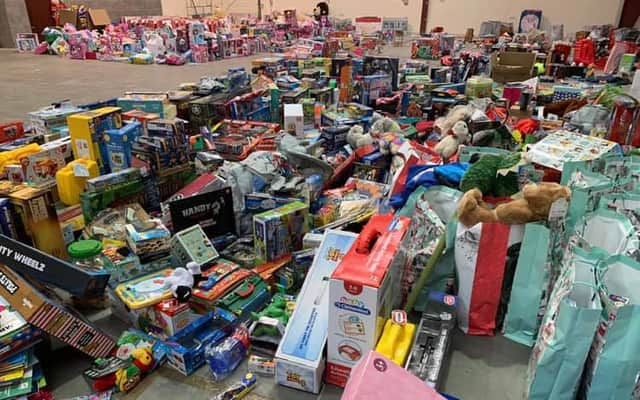 Laffs 4 Kids will be held at the O2 City Hall in Newcastle. There will be two shows, a matinee at 2pm and an evening show at 7pm. Tickets are priced at £11.25, and you can purchase them here.