The biggest stag and hen party trends you can expect to see for 2023 has been revealed by Britain's leading stag and hen party organisers - Last Night of Freedom.
Over 250,000 couples in the UK tie the knot in the UK each year, however given that many people had to postpone due to the coronavirus pandemic, this number is on the rise. This also means that stag and hen parties will also be increasing. Last Night of Freedom has enjoyed their busiest year in 2022 so far.
The trends emerging for 2023 range from celebrity guests accompanying your night out, to jetting off to budget friendly destinations. Last Night of Freedom's managing director Matt Mavir has now revealed the five biggest trends.
The first one is affordability, due to the cost of living increase means that brides and grooms are searching for cheaper ways to enjoy their parties. Matt said: "Everybody currently wants value for money, and that includes stags and hens," That means groups are increasingly turning to destinations that have a reputation for being cheaper, especially as there's a chance at least a few people in the group won't be that flush." Last Night of Freedom have seen a huge demand for budget friendly destinations such as Benidorm.
Celebrity guests are the second most popular trend emerging. This trend was sparked by websites such as Cameo and Memmo becoming increasingly popular - where celebrities send personal video messages to fans. Last Night of Freedom have now created celebrity packages to book for your night out, including appearances from Mr Motivator and Geordie Shore stars.
The third trend is class and sophistication, with Last Night of Freedom finding that the ruder traditions of stag and hen parties are coming to an end. Instagrammable hotels and destinations are on the rise. "We are seeing huge growth in the likes of Dubai as a destination," Matt said.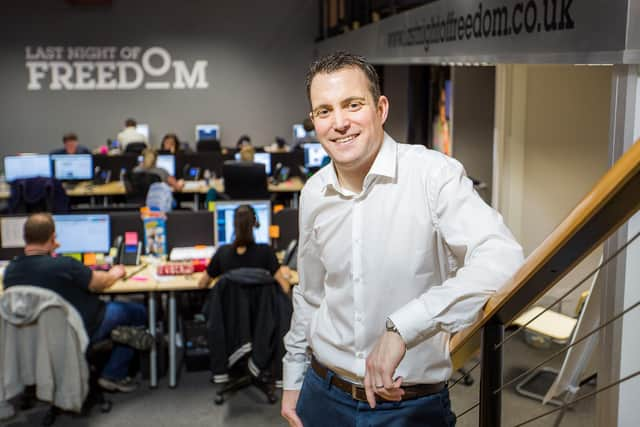 Groupwear is another trend, although this one has been around for a while now. However, groupwear is now going beyond the basic stag t-shirt, as Matt explains: "It is brash, completely over-the-top – but whoever is wearing this can't help exuding confidence."
Lastly, night's in are another new trend we can expect to see in 2023. The rise of party pads, (especially desired by hens), means that people are more inclined to celebrate their party in the comfort of indoors, rather than heading out to the city or on a holiday. "Rather than spend a fortune on cocktails and taxis, groups are instead buying in amazing food, drink and hen party games and doing it all under the same roof," Matt said.