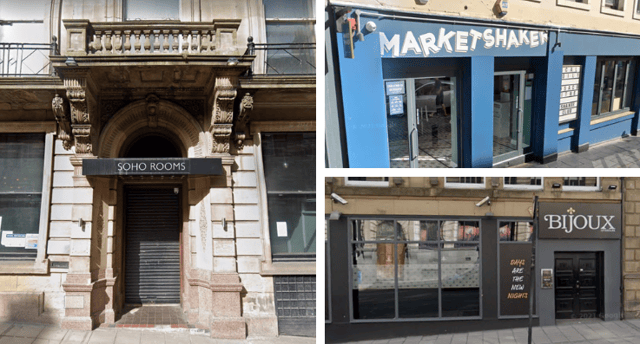 How bars and nightclubs in the city are responding to the boycott (Image: Google Streetview)
Students at Newcastle University and Northumbria University will boycott the city's bars and nightclubs on Thursday night.
The movement comes in a bid to demand club owners to take extra preventative measures against a national rise in drink spiking.
The National Police Chiefs' Council reported that there have been 198 confirmed cases of drink spiking across England, Scotland, Wales and Northern Ireland in September and October alone.
On top of this, there have been 24 reports of some form of injection being used.
Instead of filling the Bigg Market on Thursday night, students will socialise in the comfort of their own homes.
Some bars in the city centre have already taken action to counteract drink spiking, whilst others have issued statements acknowledging the boycott.
NewcastleWorld.com rounds up which bars and nightclubs have and have issued statements regarding current events.
Market Shaker
Market Shaker acknowledged an "increase in claims of drink spiking" earlier this month.
The bar addressed the situation in social media posts and announced new safety measures "with immediate effect".
These include extra security and CCTV, welfare training for staff, drink testing kits and a vulnerable persons' area.
Powerhouse
The owners of Powerhouse confirmed an 'increased focus' on safety.
A statement provided to Newcastle World read: "At Copenhagen1801 Ltd, the operator of Powerhouse Newcastle, we are continuously looking for ways to ensure our venues are a place for everyone to enjoy safely.
"In parallel with a number of other venues across the city, we are further increasing our focus to the safety of our customers through a number of additional safeguards.
"Whilst we are unaware of any specific incidents we are always eager to make sure we offer our customers an environment they can feel safe in.
"We have implemented extra searches of customers on entry to the venue by door supervisors, and over the coming very busy Halloween weekend we will be conducting more searches than ever.
"We have a new safe space for customers feeling unwell or worried about their drinks where anyone is able to have their drink tested. Help is available from a dedicated Door Supervisor in a comfortable space that is covered by CCTV for everyone's safety.
"Customers will also be able to request from the bar our new drinks covers which fit over your glass.
"We are working closely with the Newcastle Street Pastor teams and Northumbria Police to get the right help if a customer needs it."
Soho Rooms, Greenhouse and Queens
Soho Rooms, Greenhouse and Queens are all owned by the Sayturk Limited group.
The group reassured customers that they are committed to "the highest quality safety and welfare" for guests in a post online.
They added: "And a phrase we feel adequately suits is: Ohana, it's means family, and family means no one gets left behind or forgotten."
Swingers
One of the most popular events on a Thursday night in Newcastle, Swingers will close its doors in support of the boycott tonight.
A statement online read: "Swingers will not be opening this Thursday…. We like all of you are appalled at the goings on of recent.
"As one of the most popular and longest standing student events in the city we together with the owners of Greys club feel it is our duty to stand side by side with the 'BigNightIn' boycott this Thursday and close our doors in a collective protest alongside the students of Newcastle & Northumbria universities to emphasise our disgust at those of whom are suspected to be carrying out these appalling crimes."
The organisers also confirmed they will be taking extra security measures, including drink caps and testing kits.
Bijoux
Bijoux has acknowledged recent events and promised to do "everything in our power to keep our customers as safe as possible in our premises".
The bar will be upping security and providing drink lids, and have also issued information on how to spot if a drink has been spiked.
Tup Tup Palace
Tup Tup Palace stated that they were 'saddened' at the increase in claims of drinking spiking in the country.
In a Facebook post, the club confirmed its additional measures including drink covers, testing kits and a taxi partnership.
NewcastleWorld.com reached out to the following bars asking for statements but has not yet received a reply.