I sold my soul to the devil and tried the Five Guys pigs in blanket milkshake at new Silverlink joint
I told myself the idea of a pigs in blankets milkshake was a satanic idea. Now, I'd sell my soul to the devil for another one.
Watch more of our videos on Shots!
and live on Freeview channel 276
Visit Shots! now
I like pigs in blankets. I like milkshakes. I won't like a pigs in blanket milkshake. Those were the three simple thoughts running through my mind as I travelled down to the new Five Guys restaurant at Silverlink Shopping Park in Wallsend.
The famous burger chain has launched a new menu item for this festive season and it's fair to say it's a little off the wall. The joint is known for its great, thick shakes and I thought it might be risking its hallowed shake reputation with the launch of a pigs in blanket milkshake for 2022.
Now, I am like any other person. On Christmas Day, when I see the bowl of pigs in blankets on the table, I'll prioritise getting my greedy mitts on them. There's never enough to go around, they are the best item and from the corner of my eye, I can see my dad licking his lips and inching his sausage fingers closer to the serving dish. If you snooze, you lose.
It's fair to say, there wasn't the same frenzied competition to get my hands on one of Five Guys' pigs in blankets milkshakes on a Tuesday evening in Wallsend. In fact, the shake isn't even visible on the menu and is somewhat of a well-kept secret for Christmas fanatics.
I, perhaps foolishly, feared that the milkshake would consist of blended pigs in blankets and make for something out of an I'm a Celebrity... Get Me Out of Here! Bush Tucker trial. Of course, that would be more of a smoothie and I was pleasantly surprised at finding out the reality behind the pigs in blankets shake.
The Five Guys milkshake is made up of three rashers of bacon mixed into the signature milkshake vanilla-like base. As such, it's somewhat of a sweet and salty blend that, to my great surprise, worked well.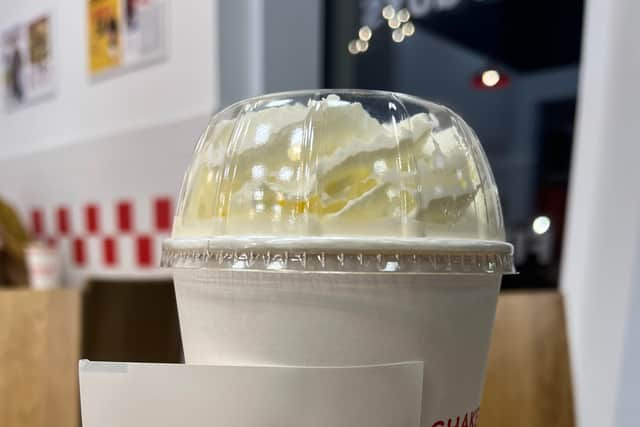 The overwhelming sensation from the shake was a sweet flavour that famously goes so well with burgers. The little bacon bits did take a second to get used to as they floated up the straw, but actually did complement the burger and chips that I had ordered alongside the drink.
So, as I swallowed the last bites of my burger, I swallowed my pride too. I told myself the idea of a pigs in blankets milkshake was a satanic idea. Now, I'd sell my soul to the devil for another one.