Last-minute man wins Geordie hearts as Jersey Boys arrives at Newcastle Theatre Royal
The longstanding theatre hit will be on Tyneside until September 10
Watch more of our videos on Shots!
and live on Freeview channel 276
Visit Shots! now
Halfway through the first act of Jersey Boys at the Newcastle Theatre Royal, the cast leaves the stage and the lights go up.
Confused faces look at one another in the crowd and feet stop tapping for the first moment since the much-loved musical opened on a sizzling French rap version of 'Oh What a Night'.
A calm voice informs the crowd over Theatre Royal speakers that there has been a small technical glitch and the show will resume shortly.
Spectators have just long enough to check their phones and whisper around that, at the time, Newcastle United are still holding Liverpool at Anfield before the lights drop again.
In that brief pause, lead Frankie Valli actor Michael Pickering has been replaced by swing George Salmon - the former's voice seeming to strain in the number previous.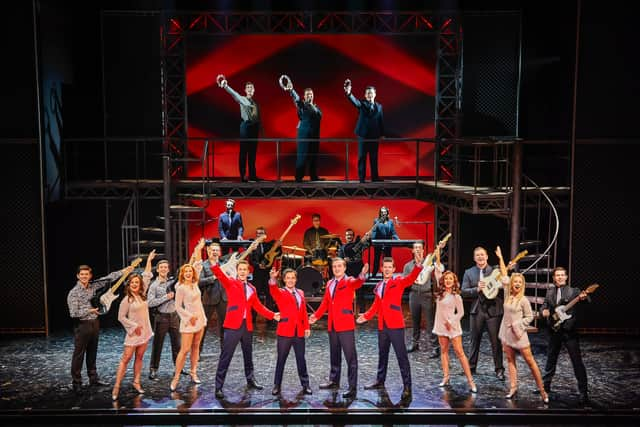 Known for his vocal range and high notes, portraying The Four Seasons' lead singer is a vocal Olympics and frankly not one possible if cords are strained. It's no doubt gutting for Pickering, but such is life on the road and the change-over is handled with aplomb by the production and Theatre Royal.
The unexpected stop-start adds an extra edge to the evening's performance which Salmon takes into his stride effortlessly.
The actor's voice shines as he channels a prime Valli on stage, earning rapturous applause in the finale - an adoring Geordie crowd appreciative of him saving the night.
What makes Jersey Boys such a longstanding theatre hit is it's far from a one-man show.
Blair Gibson's Bob Gaudio moves from a bright-eyed teenager to a quick-thinking businessman over the course of two hours whilst Norton James' steady Nick Massi proves a linchpin in the performance.
Elsewhere, Dalton Wood's wily Tommy DeVito excels after the interval in upping the ante in The Four Seasons' story.
A highlight of the evening is without a doubt hit track 'Begging', which bursts into life in the second act. A ditty that has enjoyed recent viral success on TikTok is a testimony to the Four Seasons tracks that have stood the test of time. 'C'mon Marianne', 'Can't Take My Eyes Off Of You' and 'Big Girls Don't Cry' are other exquisite moments, whilst Salmon's voice is mesmerising on 'Bye Bye Baby'.
In a night that could have been remembered for its midway actor switch, spectators leave Jersey Boys in awe of one of the most professional touring shows out there - and a theatre that never fails to make the region proud.
You can get your tickets for Jersey Boys here.