Reaction from constituents has varied after Hexham MP Guy Opperman resigned as Pensions Minister this morning.
Just hours before Government appoint new Independent Ethics Adviser ">Prime Minister Boris Johnson confirmed he would be stepping down from his post, Mr Opperman announced he would be joining the 50 plus MPs who have quit the government over the past 48 hours.
Just last month the Hexham MP issued a strong message of support to Mr Johnson following the breaking of Covid-19 guidelines in what became known as Partygate.
At the time, Mr Opperman wrote: "I believe Government should be focusing on the issues affecting our economy, the cost of living, and the necessity of ending the war in Ukraine.
"I do not believe the many months associated with leadership change helps that; I do not support colleagues undermining the PM. The PM has my support as we collectively address these issues post covid; that means levelling up, enhanced pension saving, better education / skills and real conservative policies both to grow our economy and look after the most vulnerable in our society."
Fast forward one month and the politician has criticised "the behaviour of the Number Ten team during the Covid restrictions" and handed in his resignation from the role as Pensions Minister, demanding the Prime Minister be removed from his role.
The message was shared on Mr Opperman's social media channels at 7:50 am.
The letter read: "It has been the honour of my life to serve as a government minister, under three successive Prime Ministers, including these last five years as Pensions Minister.
"My view is that it is important to work as a team and deliver on the priorities that matter most to my constituents in Northumberland.
"We both know I was particularly upset at the behaviour of the Number Ten team during the Covid restrictions. I backed you in January 2022 because I wanted to see a real change in approach in Number Ten.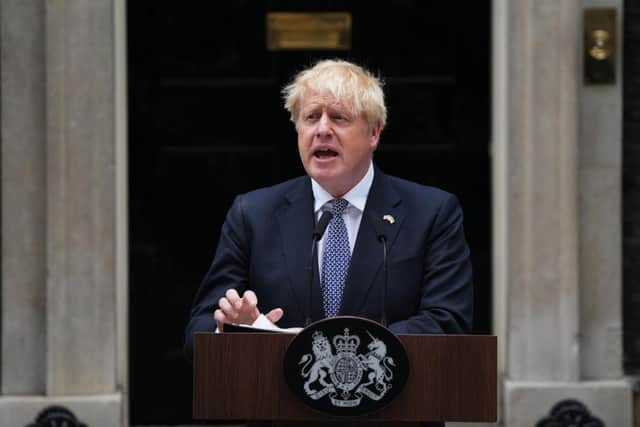 "I have given you ample opportunity to show real change. Sadly, recent events have shown clearly that Government simply cannot function with you in charge.
"In good faith, and with regret, for the good of the country, I must ask you to stand down. No one individual, however successful in the past, is bigger than the party, or this great country."
At 12:30 pm today, Mr Johnson confirmed that he would leave his role once the party had found a new leader.
The Prime Minister said he was "immensely proud of the achievements of this government" and added the tongue-in-cheek comment, "at Westminster, the herd instinct is powerful and when the herd moves, it moves."
Following the Hexham MP's resignation, constituents took to social media with mixed responses.
One constituent wrote on Facebook: "Well done Guy. It had to be done. You are an excellent MP for our constituency. Thank you."
Another added: "Thank you for doing the honourable thing. I was going to write to you but felt you could do without a rant at this stage. Whatever the next steps always remember your constituents are putting their trust in you to continue to do the right thing when acting on their behalf."
However, others branded the move as "very, very, very late".
One constituent wrote on Twitter: "A very different letter to the one you sent me, and others, backing the PM, saying you didn't think he should resign, despite partygate. Why the change of time & why wait til over 40 of your colleagues went?"
Another added: "Too little, too late. You've only resigned after waiting to see which way the wind blew for your career. In no way is this for your constituents. I hope my fellow constituents remember this and vote you out at the next (hopefully soon) election!"