Newcastle Airport: which flight routes could be affected by Russia-Ukraine conflict?
Flights around Europe have been impacted by the ongoing Russian invasion of Ukraine - but have any flight routes from Newcastle Airport been affected?
Watch more of our videos on Shots! 
and live on Freeview channel 276
Visit Shots! now
Russia's invasion of Ukraine has sent shock waves around the world, and is already causing disruption to the stock market, energy prices, and travel.
On 24 February, Ukraine closed its airspace to civilian flights as the invasion began, and Moldova followed suit. Belarus has also closed parts of its airspace to commercial flights.
In response to the UK's sanctions on Russian airline company Aeroflot, the country announced on 25 February it was banning UK flights from its airspace.
On 27 February, the head of the European Commission, Ursula von der Leyen, announced that European Union airspace is closed to Russian planes.
So how will airspace closures and a ban on UK flights entering Russia impact Newcastle flights and routes - and will it lead to diversions and cancellations? This is what you need to know.
Will flights from Newcastle Airport be affected by the Russia-Ukraine conflict?
Although there are no flights to Ukraine or Russia from Newcastle Airport, it is possible to get direct flights to destinations in nearby countries.
Direct flights operate from Newcastle to Gdansk, Krakow and Wroclaw in Poland as well as Riga in Latvia.
Jet2 operates flights to the Polish destinations and despite the concerns over airspace closures, all of their services remain unaffected.
Poland has a border with Ukraine and Warsaw, the Polish capital, is roughly 485 miles from the Ukrainian border.
A spokesperson said: "We are aware that Russian airspace has been closed to British airlines, and that Ukrainian airspace has also been closed.
"These developments have no impact on any of our flights whatsoever, and we are continuing to operate all of our routes as normal."
RyanAir, who have suspended all flights to Ukraine for 14 days, operate a service between Riga and Newcastle.
Riga, the capital of Latvia, is situated less than 75 miles from the Russian border and is separated from Ukraine by Lithuania and Belarus.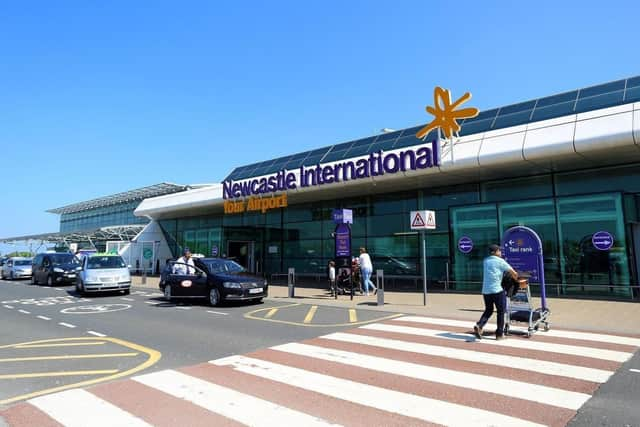 Which countries have closed their airspace to UK flights?
Russia has taken the decision to ban all UK flights from either entering Russian airspace or landing at Russian airports.
Russia has said that the decision to ban UK flights was made in response to the 'unfriendly' decision from the UK to ban flights from the Russian airline Aeroflot.
This move was confirmed on Thursday following the beginning of the Russian invasion of Ukraine.
Russia's civil aviation authority Rosaviatsia, which issued the decision to ban UK flights from the country, issued a statement on 25 February.
A spokesperson said: "This measure was taken in accordance with the provisions of the Intergovernmental Air Services Agreement between Russia and the UK as a response to unfriendly decisions by the UK aviation authorities regarding the restriction on regular flights of aircraft owned, leased or operated by a person associated with Russia or registered in Russia."
UK Defence Secretary Ben Wallace told ITV that the decision from the Russian civil aviation authority was a 'tit for tat response' to the Aeroflot move from the UK.
He said: "I think that's their retaliation for us yesterday banning Aeroflot from using and landing in the United Kingdom. That's their tit for tat response."
Moldova, Ukraine and Belarus also currently have their airspace closed to aircraft from around the world, not just those from the UK.
This is due to concerns for the safety of commercial airlines amid Russia's invasion of Ukraine.
Could my holiday or flight be cancelled this year?
Flights to Gdansk, Wroclaw, Krakow and Riga from Newcastle are unaffected by the Ukraine crisis at present.
Flights from other UK airports to destinations within Ukraine and Russia have been cancelled and this will remain something to keep an eye on as the year progresses.
It is recommended to get in touch with your airline for any queries about your flight.
What should I do if my flight gets cancelled?
If your flight has been cancelled by an airline due to the Ukraine-Russia conflict, they are legally obliged to provide either a full refund or an alternative flight.
According to EU Regulation 261/2004 (a law which the UK has kept since Brexit) if you request a refund, airlines must issue it in full no later than seven days after the scheduled flight.
This is a general rule and is not exclusive in the event of war.
If the trip you had planned was booked as a package holiday, the tour operator is responsible for getting your trip back on track or offering a full refund.
Customers shouldn't need to claim on travel insurance for a cancelled flight.