Newcastle Clean Air Zone: When charges start, where zone applies and how much drivers will have to pay
The Newcastle Clean Air Zone will come into action in the coming months and charges will be rolled out in two waves for different vehicles.
Watch more of our videos on Shots!
and live on Freeview channel 276
Visit Shots! now
Motorists in Newcastle may have noticed road signage confirming the imminent arrival of a Clean Air Zone on Tyneside.
A total of 43 signs and 38 cameras have been set up in Newcastle ahead of the zone's implementation in the coming months. Newcastle City Council hopes that the scheme will "help improve air quality and create a healthier environment by encouraging people and businesses with older, more polluting vehicles to upgrade to cleaner models".
The Council has worked closely with Gateshead Council to introduce the Clean Air Zone, which is officially known as the Newcastle and Gateshead Clean Air Zone as it covers both sides of the River Tyne's iconic bridges. Below we look at when and where the zone will be implemented, as well as whether your vehicle will be affected by the charges.
When will the Newcastle Clean Air Zone charges begin?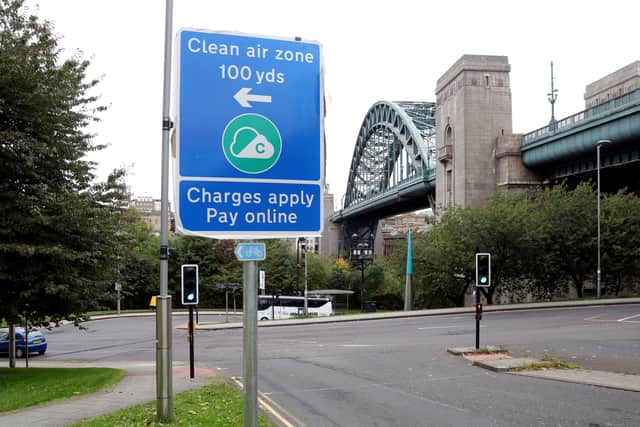 For those not in the loop, the arrival of the Clean Air Zone signs may have come as a surprise. It is, however, a scheme the Council has been working on for a while and the now confirmed implementation date of Monday, January 30, 2023 is actually later than first hoped for. Charges for non-complying cars will be introduced in two phases, detailed below.
Cllr Jane Byrne, cabinet member for connected city at Newcastle City Council said: "Although the signage and cameras for the Clean Air Zone are now in place, we want to reassure people that there will be no charges until next year and there is still time to get ready. Over the next two months we will be collecting details of vehicles entering the zone and contacting owners of non compliant higher polluting vehicles, which will be affected from January, to make them aware and provide information about how to get support and financial help."
Where does the Newcastle Clean Air Zone cover?
The Newcastle and Gateshead Clean Air Zone covers the majority of the city centre. It begins at the entry point of the Redheugh Bridge, Tyne Bridge and Swing Bridge - it also applies on the High Level Bridge although traffic here is one-way out of Newcastle.
The zone then runs from Close on the Quayside and along Skinnerburn Road then up to the Royal Victoria Infirmary, along the Central Motorway and back by Northumbria University to the Tyne Bridge.
Will I have to pay to drive my car in the Newcastle Clean Air Zone?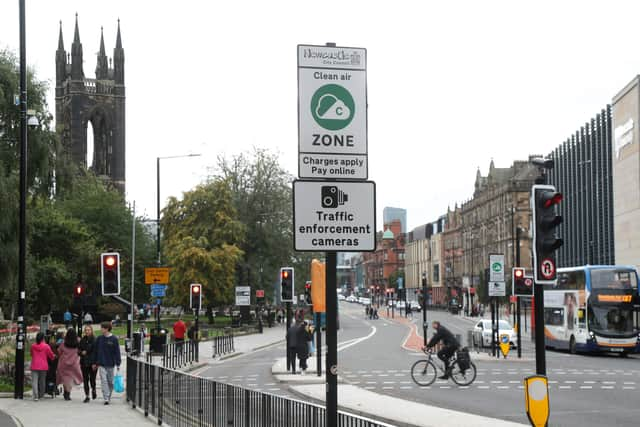 The first thing to know is that private cars are not affected by the Newcastle and Gateshead Clean Air Zone. It only affects buses, coaches, taxis, vans and heavy goods vehicles that do not meet national Clean Air Zone emissions standards.
Charges are being implemented in two phases. Fees for non-compliant taxis, buses, coaches and HGVs will begin on 30 January 2023. Charges for vans and light goods vehicles will be delayed until July 2023 to allow additional time for owners to upgrade due to national vehicle supply issues.
If you drive a vehicle that will be affected, you can check whether it meets Clean Air Zone requirements via the Government site here. A basic guide is that registration plates must be of the following date or newer:
Taxis - Diesel after September 2015. Petrol after 2005 (in some cases 2001).
Vans - Diesel after September 2016 and petrol after January 2006.
HGVs, Buses and coaches - After 2014.
Charges for non-compliant vehicles to drive within the CAZ will be £12.50 a day for vans and taxis and £50 per day for buses, coaches and HGVs.