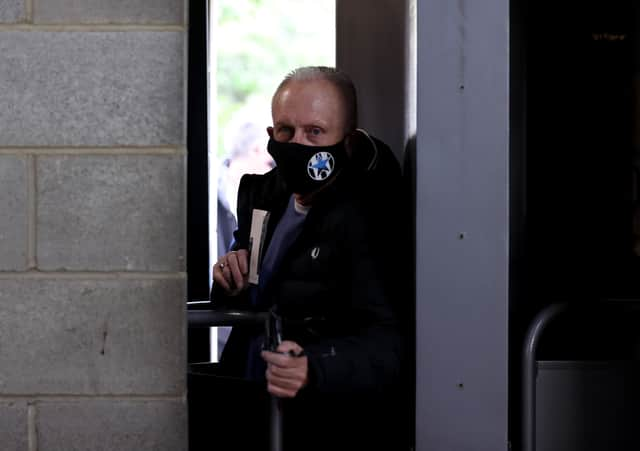 A fan enters St. James' Park (Image: Getty Images)
Newcastle United fans will need to show a Covid Passport to attend matches at St. James' Park.
The new measures come as the Government introduce their Plan B for the winter period with the goal of managing the spread of Covid-19.
The arrival of the Omicron variant in the UK, and in the North East, has prompted ministers to introduce extra measures.
For football fans, it means showing some sort of Covid passport to get into matches.
Why are the measures being introduced?
Additional measures to stop the spread of Covid-19 have been introduced to combat the spread of the Omicron variant.
The Prime Minister confirmed the changes in a statement on Wednesday, December 8.
Restrictions include the reintroduction of the work from home order, the extension of face masks in indoor public areas and, of course, the 'vaccine passport'.
Mr Johnson added: "If and indeed as soon as it becomes clear that the boosters are capable of holding this Omicron variant, and we have boosted enough people to do that job, then we will be able to move forward as before."
When do they come into effect?
Football fans will have to show their Covid Passport to enter grounds from Wednesday, December 15.
That means match-goers have just under a week to get familiar with the rules.
Newcastle United travel to Leicester this Sunday, December 11 - any away fans will not need the passport then.
The Magpies then head to Anfield to take on Liverpool on Thursday, December 16 - away fans for this match will need the passport.
The side's next home match comes on December 19, against Manchester City - fans will need the passport for this match, and all thereafter for the foreseeable future.
How do I get my Covid Passport?
Despite the Covid Passport sounding like an extra piece of administration, it's not as daunting as it may sound.
Your Covid Passport is simply either proof of double vaccination or a negative lateral flow test.
Proof of vaccination can be obtained via the NHS app and lateral flow tests can be collected for free at pharmacies or ordered online.