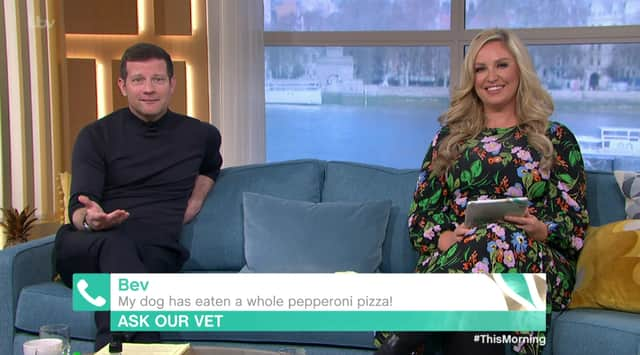 A concerned Newcastle woman called live into This Morning today after her dog stole her takeaway from the kitchen counter.
Vet Dr Scott Miller appeared on the hit ITV show alongside Dermot O'Leary and Josie Gibson to listen to viewers' pet horror stories and provide advice.
During the segment the Geordie woman phoned in and had the panel in stitches as she explained what had unfolded in her house that morning.
Bev said: "My 1-year-old cockapoo has stolen from the kitchen counter this morning and eaten 3/4 of a large takeaway pepperoni pizza."
Dermot couldn't control his laughter as he joked: "You're in for a couple of days, let me tell you."
Whilst Dr Scott also smirked at the cheeky pet's antics, he kept a calmer face and provided some advice.
He said: "He's a naughty fella... generally the components of a pizza shouldn't be toxic to him but it can be highly fatty which can lead to inflammation of the pancreas which can lead to acute and severe vomiting and abdominal discomfort.
"If he managed to get past that and it's fine, then it might be he has some rather spectacular diarrhoea coming the next few days and good luck to those rugs in your house.
"If you're finding he's at all upset you will just have to go to the vet.
"If he seems comfortable enough then monitor him and do your best to work on his table manners in the future."
The vet added his compliments to the Newcastle woman's accent.
He said: "It sounds even better in your accent!"