Fall out from Gabby Agbonlahor's unwarranted slamming of the city of Newcastle on talkSport has continued on social media.
The former Aston Villa striker took swipes at Tyneside in an attempt to explain why players may be reluctant to join the Magpies comes the January transfer window.
Agbonlahor, who never once scored or even won at St. James' Park in his six appearances away at Newcastle, said that "players don't want to live in Newcastle".
He said: "Players will go there for the money.
"When I was playing in the Premier League, Newcastle was the place I thought... I'm not sure I want to go there... the weather.
"Players want to be close to London.
"You'd have to pay more. If you offered now a player £40,000 per week at Newcastle of £30,000 at Brentford, they'd go to Brentford.
"Players don't want to live in Newcastle, let's be honest."
It's not the first time that the North East has come under bizarre criticism as a city in the footballing world.
During the start of the 2018/19 football season broadcaster Ian Abrahams suggested that the only reason St. James' Park sold-out every game was because there was nothing else to do in the region.
He said: "Everybody keeps telling me what a big club Newcastle are.
"At least Leeds have at least won the title in the last 30 years; Newcastle since I was born have won nothing, not a thing
"Since colour television was invented; zilch. Absolutely nothing. So when Jim (White) says they're a big club, they get 52,000, yeah well what else is there to do in Newcastle?
"Some smart Alec sent me a link to Trip Advisor about what there is to do in Newcastle; I looked at it, there's one art gallery and a few parks to walk around.
"Hang on a minute, I won't go to the footy, I'll walk around the park. Yes they get a lot of people through the gate, I'm not denying that but that doesn't make you a big club, when you get 52,000 people through the gate when there's practically nothing else to do on a Saturday afternoon."
The weekend after Abrahams' rant, Soccer Saturday presenter and County Durham local Jeff Stelling used the Sky Sports platform to put him in his place.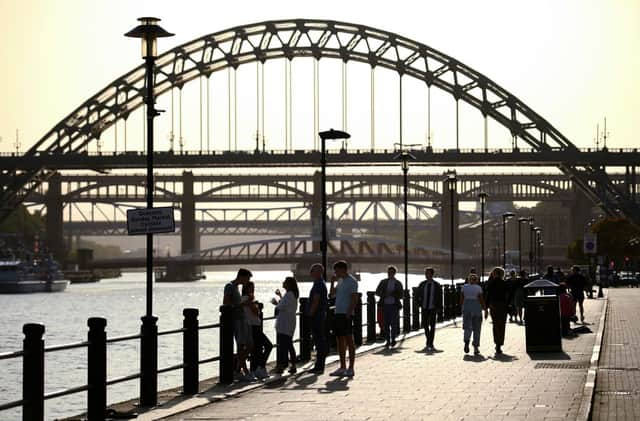 He calmly said on air: "This is not a rant, but he [Abrahams] has probably never been to St. James' Park, he's never had a night out in the Bigg Market, never eaten at any of the marvellous restaurants.
"He's probably never appreciated the wonderful architecture of Grey's Street, he'll never have been to the Theatre Royal, he'll never have been to the racecourse.
"He'll never have strolled along the Quayside in the shadow of the Tyne Bridge and I doubt he's ever visited the BALTIC gallery.
"He probably doesn't know that Gregg's opened their first-ever branch in Newcastle in 1951, he's never had a Newcy Brown and he's probably never eaten a stottie cake... actually he probably has eaten a stottie cake, quite a lot of them in truth.
"It's a wonderful city with loads to do and loads to eat and loads to drink and don't believe what you hear on the radio. Trust me."
The clip of Jeff's famous speech has resurfaced online after Agbonlahor's comments, being shared by many Newcastle United fans.
One wrote: "Go on @JeffStelling! Great to see people actually appreciating the city and area for what it is. It's not London, it's better!! Get me up to Whitley, Tynemouth, The Tyne Bridge, the Quayside, St James' Park! It all feels like home thanks to the amazing people of the North East!"
Another wrote: "Love the passion, and love that it's all true. Newcastle is truly amazing …well said Jeff."