Concert organisers have clarified that 'all customers will be accommodated' after a wave of Geordie support saw singer Tom Grennan needing to upgrade his Newcastle show next year from the O2 City Hall to the Utilita Arena.
The 'Little Bit of Love' singer will tour his upcoming record What Ifs & Maybes in March next year and had announced a date at the O2 City Hall for Tuesday, March 14 2023. However, after fans pounced on tickets, the star announced that his show would make the major move from the 2,135-capacity venue to the 11,000-capacity Utilita Arena.
Whilst fans who had missed out on tickets rejoiced, it did leave confusion amongst those who already held tickets for seats at the O2 City Hall with many tickets automatically changed to standing at the arena.
Katy on Twitter wrote: "Please can you help!! We bought three seated tickets for the City Hall in Newcastle to take our 6-year-old as she's obsessed with your music, the venue has now been swapped to the Utilitia Arena and swapped our tickets to standing which means she can't go as not allowed to stand!"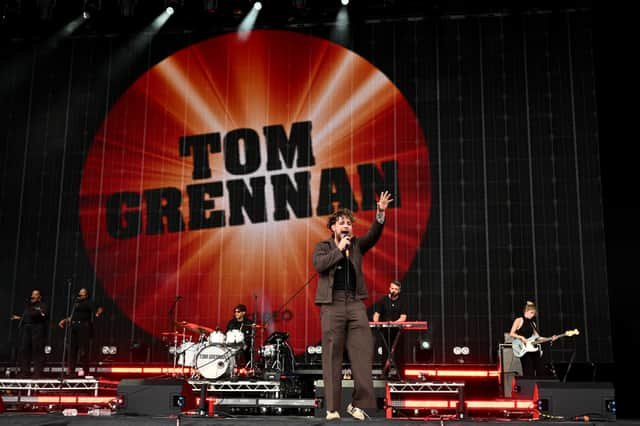 Another said: "Newcastle venue changed but request for refund on two presale city hall tickets refused. Arena much bigger venue and standing tickets no good there with a child. Please rethink your refund policy."
An S.J.M. Concerts spokesperson has now confirmed to NewcastleWorld that original seating tickets will be honoured at the new venue.
They said: "We will of course accommodate any customers who originally booked for Newcastle O2 City Hall - that now have standing tickets at Newcastle Arena and would prefer to have seated tickets.
"Any customers wishing to amend their tickets to seated, just need to log into the site they booked through to query this further and they will be allocated the best available seats."
It's set to be a blockbuster tour for Tom Grennan who is hitting new lofty heights thanks to a string of hit singles. Fans also praised the star for keeping the cost of tickets at remarkably low prices compared to many other shows at arena venues.
One fan online said: "I haven't seen enough people talking today about how brilliant the pricing of Tom Grennan's arena tour is. The cheapest I've seen for a mainstream radio-played artist for a long time. Fair play."
Tom Grennan replied: "Trust me we've worked hard to pull the cost of tickets down, and dismissed all VIP and platinum ticket options as it's just bollox in the middle of a cost of living crisis. The pinch is real, and I take it very seriously. Others should take note."
Tickets for the show at the Utilita Arena can be purchased here with tickets from £41.95.