Vicky Pattison has begun to overhaul her appearance with luxury beauty treatments ahead of her upcoming nuptials. The former Geordie Shore star, 35, from Newcastle, is set to marry fiancé, Ercan Ramadan, in 2024.
She took to Instagram on Sunday to share her facial sculpting experience at @drninafacialsculpting with her 5.3 million followers. Vicky filmed her entire visit to celebrity skin specialist, Dr Nina Bal, in Knightsbridge, Londons.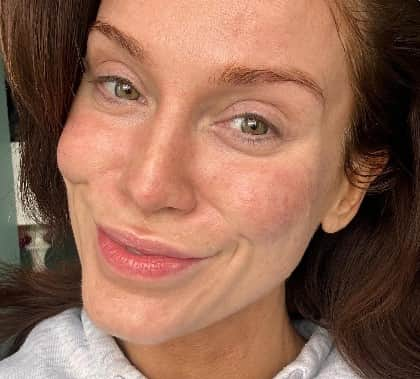 Captioning the post, Vicky said: "I've been visiting @drninafacialsculpting for years and I absolutely LOVE her! I want my skin to look young, healthy and glowing but I still want to look like me and I don't mind looking 35- I'm proud of my trips around the sun and it doesn't bother me that I'm not getting ID'd for Red Bull anymore 😂 However I'm only human and I still want to look like the BEST version of 35 year old me 😂 And listen, if I get mistaken for a 33 year old sometimes I am NOT complaining 😂🤞🏼."
Vicky appeared nervous in the clip as she had numbing cream applied and held a stress ball to stay calm during the process. She said: "It is not exactly necessary but I'm just a bit of a fanny."
Dr Nina Bal marked on Vicky's face where the injections would be inserted using a pen and a ruler. Vicky warned:"For anyone who is a bit squeamish, there will be needles in the next bit". After having Profhilo injected into her face, Vicky clapped in delight and showcased her new refreshed look in the daylight outside the clinic.
She went on to explain to her followers a bit more about the treatment in the caption, adding:"So for anyone not familiar with the treatment, Profhilo gives hydration, luminosity, sparkle, firmness and strength to the skin with a very potent anti-ageing effect ♥️ Absolutely blinding right?? Heads up, and as I mention in the video- it isn't exactly licked on by kittens 😂🤦🏻‍♀️ It is a little bit stingy and there can be a bit of bruising! But I've always found the downtime to be quite minor and if I can bloody get it done - anyone can 😂♥️"