Vicky Pattison: former Geordie Shore star shares top tips for visiting Dubai as she enjoys lavish getaway
Vicky has been enjoying a life of luxury in sunny Dubai and has shared her top tips for travel enthusiasts looking to visit the city.
Reality TV star, author and presenter Vicky Pattison has shared her top tips for visiting Dubai with her 5.3 followers on Instagram. The former Geordie Shore star, 35, from Newcastle-upon-Tyne, took to the social media platform to share advice and recommendations for travel enthusiasts looking to visit the city in the United Arab Emirates.
Vicky has been enjoying a life of luxury in sunny Dubai to celebrate her best friend's hen do. The star has been sharing snaps of her lavish getaway on social media and was recently spotted partying with good friend, Joey Essex, at Maiden Shanghai.
The reality star stayed at the award-winning FIVE Jumeirah Village Hotel - a chic holiday resort with exclusive beach access, a contemporary spa and 17 food and drink venues. Now Vicky has shared her top tips to help people save money if they are planning to visit the luxury destination.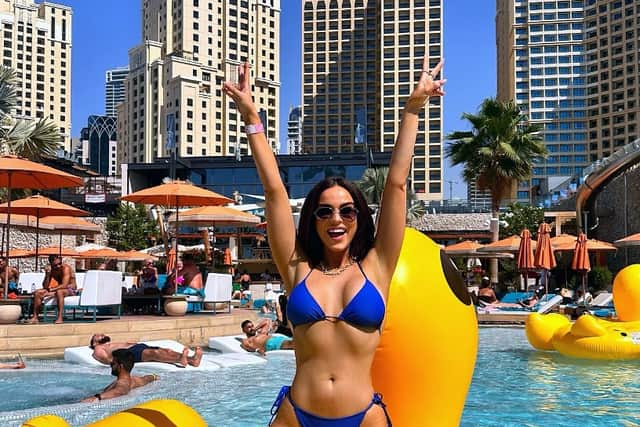 Firstly, she shared her favourite restaurants, giving an honourable mention to Karma Kafe, OPA Dubai, Maiden Shanghai and Hell's Kitchen. Vicky said: "The food in Dubai is ridiculously good & they get all the top restaurants opening up there! There is literally ALWAYS somewhere new to try. But currently, my fave restaurants are @karmakafedubai, @opadubai, @maidenshanghaidubai & @hellskitchendubai.
She then shared a list of must-do activities in the city, such as watching the fountain spectacle and visiting the World's highest 360° infinity pool. "Things you absolutely HAVE to do: @auraskypool.dubai (best views I have ever seen) go & watch the fountains (excellent views from @karmakafedubai) do a pool party- they're all pretty amazing! You can't go wrong to be fair! (Although we liked @blabladubai, @covebeachdubai and @fivepalmjumeirah the most!)" Vicky said.
Vicky also recommended that travellers try to use Ubers when getting around as they are "pretty cheap, super quick, nice cars, and the air con is always blasting!" She also explained what she wears when visiting Dubai as the UAE has rules around what attire you can wear. Swimwear is only permitted by the pool, and shoulders and knees should be covered when visiting public buildings.
Vicky shared: "I always get asked, 'What do you wear? 'Do you have to cover up etc?!' And honestly, I'd say whenever you're travelling obviously do your best to respect the local culture, and if you're going to malls or to have a wander it's respectful to cover shoulders, legs etc.. but as you can see in all the big hotels, restaurants, bars and resorts it's just normal holiday vibes!"
Finally, she recommended groups of girls purchase Ladies' Day packages, which include food, drink, entry and entertainment for a set amount of time, as they are "super good value for money".