Vicky Pattison displays fertility injection marks in bikini and reveals she has eggs and embryos frozen safely
Vicky Pattison displays fertility injections in a bikini and reveals she has three eggs and three embryos now safely stored away in the freezer after gruelling fertility treatment.
Watch more of our videos on Shots!
and live on Freeview channel 276
Visit Shots! now
Vicky Pattison displayed her fertility injections in a bikini and revealed she has three eggs and three embryos now safely stored away in the freezer after her gruelling and emotional fertility treatment.
The star posted a snap of herself looking radiant in a green and yellow cheque bikini whilst staying at the Borgo Egnazia hotel in Savelletri di Fasano in Puglia. Vicky was checking out wedding venues as she plans to marry Ercan in 2024 and is looking for the perfect location.
The podcaster looked tanned and toned as she climbed into the pool but followers could see marks across her stomach. Vicky explained: "that mark on my tummy is not dodgy fake tan 😂 although I've definitely had my fair share of those! It's from all of my fertility injections.. I don't quite know what it is, or if it will ever go away but I'm just going to try and embrace it either way".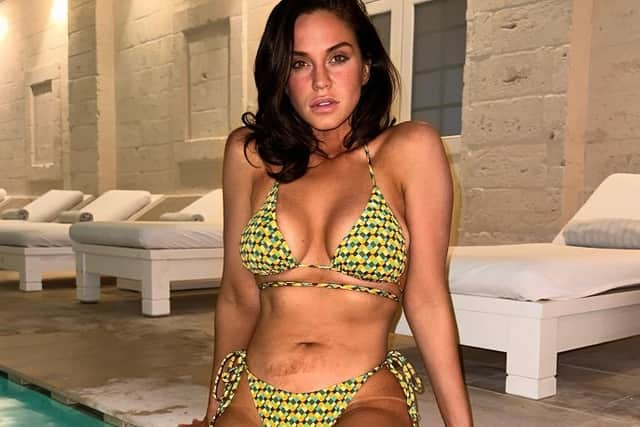 "It is, at the end of the day, a reminder of mine and @ercan_ram's first attempt at starting our family.. and I need to get on board with all the changes that journey will bring I suppose so I may as well start now ✨🤩"
After sharing the snap, Vicky then updated her followers on her fertility journey revealing that she and Ercan have three eggs and three embryos frozen safely for when they decide to start a family. Vicky, with tears pouring down her cheeks, shared: "I realised last night when talking about the marks on my tummy that I've sort of left you lovely lot hanging a bit.
"I think because I went straight to Dubai after my retrieval & became consumed by hen party madness, then wedding venue viewings that sharing my results just sort of just fell to the wayside."
She also added that she wouldn't recommend going on a hen do whilst undergoing fertility treatment saying: "I absolutely would not recommend going on a hen do straight after the egg retrieval process btw. Not only was my body all over the place but my hormones were just crazy- so many tears & even a little panic attack thrown in for good measure 😂
"I just felt so overwhelmed and emotional, like I wasn't in control of myself at all. I'm so grateful I had my family and lovely friends around me though otherwise I would have just been a mess."
Despite the trauma, Vicky happily revealed the good news after getting her results: "Right, so results! As you know we drained 12 follicles and found 10 eggs, 9 of which were mature. We immediately decided on a 3/6 split & froze 3 eggs straight away.
"The remaining 6 eggs then went on to be fertilised by @ercan_ram's 'donation' 😂 4 of which were successfully turned into embryos & 3 of those withstood the blastocyst process. Meaning that we have 3 eggs & 3 embryos now safely stored away in the freezer should we need them ♥️ A result we are super content with and really grateful for 💕."
The 'Pilgrimage' star has been very open about her egg-freezing experience and has shared her journey as a way of offering other women support. She added: "My hope is that it will help women struggling with their own journeys & also encourage a little more understanding & compassion around the subject as well as helping women realise their own options".
Followers were keen to show their support and said: "Does it ever blow your mind to think that you've got 3 tiny babies all ready and waiting to be grown/meet you someday? Science is unreal! 😂❤️". Another complimented her for her honesty adding: "Wow brilliant numbers!! We did 9 rounds of IVF, and no one spoke openly about it even then 6 years ago!! Thank you for your honesty."