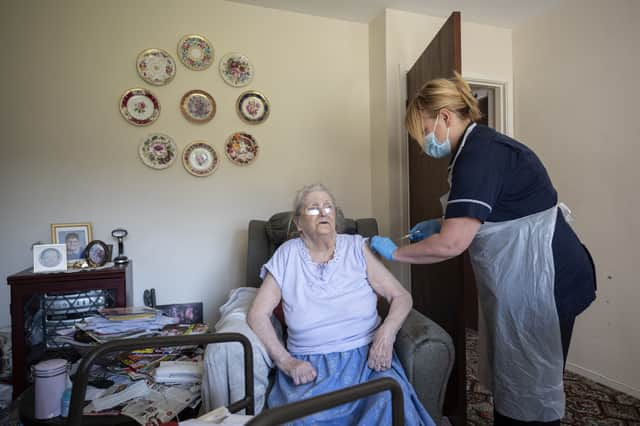 A 'worrying low' number of the most vulnerable Newcastle care home residents are still to receive the Covid booster jab.
Just 78.5% of residents over the age of 65 had received their boosters as of November 2 - a figure which Age UK has described as 'worrying'.
Out of the 2,008 over 65s in homes across Newcastle, just 1,577 have had the booster jab.
That 78.5% is slightly higher than the national average of 72.5%, although still poses questions for a scheme that has started offering extra vaccines to the general public.
The data was uncovered by National World and shown to Age UK.
Caroline Abrahams, director of Age UK, said: "The pandemic is far from over, and now with the concerns raised by the emergence of the Omicron variant it's imperative that we protect those who are at greatest risk from the virus, who include care home residents and older people who are housebound.
"According to these statistics the numbers who have received their boosters so far are worryingly low."
The percentage of care home residents over 65 who have received the booster is even worse in Gateshead (75.3%), North Tyneside (75.9%) and South Tyneside (73.9%).
The NHS figures provided may not include instances where a full third dose was given, instead of a simple booster.
Full third doses are offered to severely immunocompromised people, such as those undergoing chemotherapy or organ transplant recipients.
The NHS was also not able to say how many care home residents were eligible for a third dose, rather than a booster.
Professor Jennifer Rogers from the Royal Statistical Society (RSS) said the lack of figures had been "frustrating".
Speaking early last week, she said: "The booster vaccine will play a crucial role in our ability to tackle Covid over the winter months, so it's essential we have the full picture on progress so far."
More than 20 million people in the UK have received the booster vaccine, with latest data showing that one in three Brits has had the extra jab.
At the moment, the booster vaccine is being offered to the over 40s, key workers and those with underlying health problems.