Hollywood star Ryan Reynolds took a cheeky swipe at Gateshead Football Club, and the town in general, in a light-hearted video posted to social media on Monday.
The clip comes as Wrexham AFC travel north to take on Gateshead in the National League at the Gateshead International Stadium on Tuesday night. Reynolds is, of course, the co-owner of Wrexham after buying the club in November 2020.
Previewing his club's match with Gateshead, Ryan Reynolds said: "Previously on Gateshead vs Wrexham - we won 3-1 against a 10-man side. Louis Storey [Gateshead defender] was booked twice in the first half. Perhaps he left early to go see one of Gateshead's bridges, including the Millennium tilting bridge.
"Gateshead, population 196,100, will be trying to battle their way out the relegation zone and Wrexham can take the top spot in the league. It'll be a good one."
Why did Ryan Reynolds buy Wrexham AFC?
The Deadpool actor's acquisition of Wrexham was one of the sport's most surprising stories in recent years. Reynolds' interest in the side is supposedly down to comedian Humphrey Key's relationship with fellow Wrexham co-owner Rob McElhenney.
Key told the BBC: "I'm laying claim to the fact (Rob's) interest in football derives from several years of teasing me for watching football during our lunch breaks at work. Until eventually, just by pure osmosis, I got him interested in the game to the degree that he decides to buy a football team.
"Where with a lot of people the journey would have ended with he and I exchanging text messages and me saying 'Ha ha, sounds great, I'd always said I'd do that if I won the lottery, but then within a month's time we had Ryan on board, we had found a football brokerage team in New York and we were in the process of trying to find a football club."
Reynolds also made headlines in the North East last year thanks to his passion for football.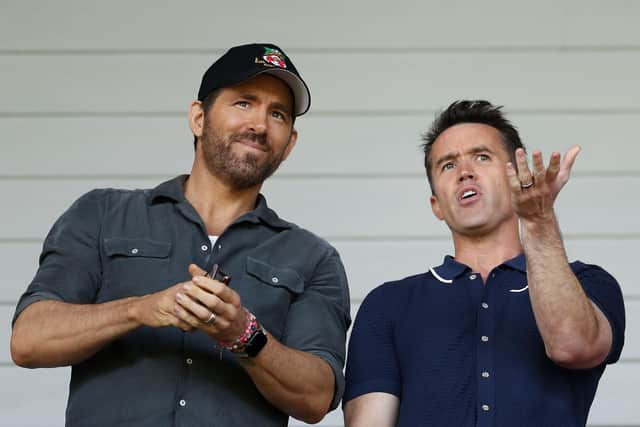 The star picked up on a story of a young Blyth Spartans fan, a six-year-old battling Pre-Leukaemia. Before Blyth took on Wrexham, the actor sent a message out to fans asking for more people to become stem cell donors.
Reynolds was applauded for the action, which trigged an influx of donors signing up to donate.