The actor is bringing his one-man How To Live A Jellicle Life show to Whitley Bay next month and has found inspiration in what is widely regarded as one of the biggest modern Hollywood flops.
The 2019 musical scored an average rating of 3.9/10 on Rotten Tomatoes and recorded a net loss of $113.6 million.
The story centres on a group of cats, known as Jellicles, who compete in an X-Factor-esque competition in the hopes of dying and achieving a glorious re-birth. It's certainly a lot.
However, for Linus, there's a lot to be learnt from that Jellicle way of life.
He said: "I didn't know anything about Cats before seeing the film, I only went to see it because my partner and flatmate wanted to see it.
"It just changed my life. I watched it and I just could not stop thinking about it.
"I just loved it so much and became obsessed.
"Everything about how weird it was, how questionable some of the choices were and how visually weird it was.
"I went to see it again, I listened to the musicals and read all about it."
At the time Linus, who was born and raised in Sweeden before moving to the UK in 2013, had just finished touring a show and needed new inspiration.
He said: "When Cats came along I felt so passionate about it and knew it was what I want to do."
Linus is deadly serious about his love for the Jellicle way of life, but cracks a wry smile to admit that this one-man show is "silly and joyful" - it's had a long list of respected five star reviews too.
He added: "It's a silly, fun, queer PowerPoint presentation about the film Cats.
"It's a very stupid show basically, with lots of pop culture references.
"It's just joyous and you get to experience something together as an audience."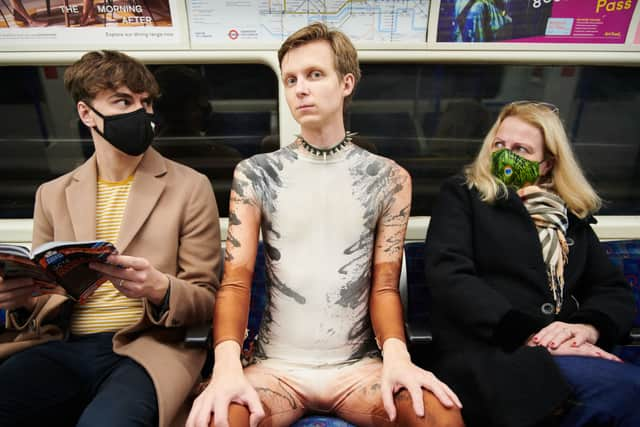 The actor hopes that by the end of the show, the audience will all know "what they can do to live a more Jellicle life".
For those yet to see the Hollywood version, Linus assures them that the show is very much for them too.
He said: "At the moment it's been 50/50 between Cats and who hasn't at the show and it seems to work either way.
"If you haven't seen Cats, you really should.
"It's available on Netflix now so it's really easy.
"Whether you love it or not, you'll have never seen anything like it.
"I think it's an experience everyone should have."
How To Live A Jellicle Life runs at the Laurels Theatre in Whitley Bay on February 11 and February 12. Tickets available here.